In Crazy Little Thing Called Love by Molly Cannon, Etta Green just told her business partner, and ex-boyfriend, Diego that she will be traveling to Everson, Texas to make arrangements for her grandmother's funeral. The news didn't go over so well. Their restaurant Finale's is having an important client dinner in a few days and they are still in the midst of preparations. Etta hopes when he tells her not to bother coming back that it's just an idle threat, but she has too much on her mind to worry about it now. Not one to give in to her emotions, Etta is a bundle of nerves trying to keep herself held together while dealing with her Grammy Hazel's will. She finds out that neighbor Donny Joe Ledbetter had been working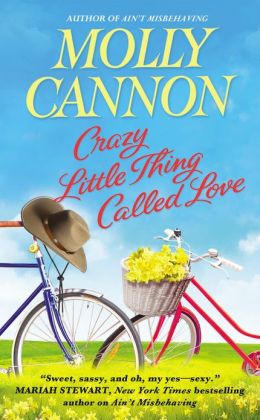 with Hazel on a project to turn her house into a Bed & Breakfast. Etta has a sneaking suspicion that Donny Joe gave her grandmother the idea and is only interested in making money out of the deal. The only thing she remembers of him when she visited Hazel summers during her childhood was that he hung out with the popular crowd and loved to joke and get into trouble. She supposes probably not much has changed over the years. She soon learns that he invested money from his own business, Backyard Oasis, to get the project off the ground. At the reading of the will, Etta and her older sister Belle are told that Donny Joe gets the house if they don't follow through with the plans to complete the B&B.
'Etta watched the breeze ruffle his blond hair, and avoided making contact with his devilish green eyes. If a woman wasn't smart she could easily get lost in the mischief they promised.'
Donny Joe and Etta continue to fight over every minute detail regarding the construction of the new Inn, as well as pretty much everything else under the sun. Then Belle takes off with her boyfriend to Paris, leaving Etta to care for eight year old Daphne, getting her enrolled in school in Everson, as well as handling their grandmother's estate. On top of it all, she's not sure how things stand in Chicago at Finale's until she takes a quick trip there. It seems Diego has fallen under the spell of a local socialite and they married immediately. Now she wants to buy out Etta's share of the business, which Etta promptly refuses. She returns to Everson feeling like her whole world has crashed down around her. To her surprise, Donny Joe picks her up from the airport and takes care of her that evening, showing her that he actually does have a compassionate side when it comes to her. They slowly call a truce to their bickering as the days pass and they work together to make Hazel's vision become a reality. When Donny Joe saves the day helping her come up with a crowd pleasing menu for their grand opening, Etta realizes she misjudged him when she first came back to town. She wonders if giving in to her growing feelings for him would put them both at risk for heartache once she figures out where she's headed in life, or if it would help push her in a new, positive direction.
'One minute the woman could be trying, and difficult, and pigheaded, and he'd be ready to choke her. Every decision they made had to be discussed five ways to Sunday. It was exhausting. And, he had to admit, exhilarating.
But then the next minute, he'd watch her with Daphne or Beulah and she'd be the picture of gentleness. The beacon of good humor that would carry them all through a difficult day. Calm and composed. Both side drew him like a magnet. And he didn't want to be drawn. He'd rather eat his hat. Damnation. His life was chaotic enough at the moment without adding that complication. In his head he understood that, but his body had different ideas.'
Donny Joe Ledbetter is grieving over the loss of his good friend, neighbor, and more recently, business partner, Hazel Green. They've helped each other out many times over years and now it's up to him to fulfill her dream of turning her old family home into a B&B. But her granddaughters Belle and Etta are complicating matters. He wholeheartedly wants them to become involved in the process and then hopefully take over running the Inn. But Belle is as flighty as ever and leaves the country abruptly, and Etta has a bee in her bonnet over every single little thing he says and does. Donny Joe is busy enough with his own pool/outdoor furnishings business but makes the time to oversee that everything goes accordingly. He had already planned on moving Etta's cousin Beulah into his house while the kitchen is renovated but now he has to offer a place to stay to Etta and Daphne as well. To his surprise, they all coincide rather well and it's nice to have someone in his lonely old house for a change when he gets home at the end of a long day. He also finds Etta to be more charming than irritating as they work together more and more on the B&B. He's not sure if that's a good thing though. He thinks of her when she's not around and finds excuses to see her. It finally takes her ex showing up in town for Donny Joe to admit what his heart has known but his mind has been fighting: he's fallen for Etta in a big way. Now he just has to prove his intentions.
Molly Cannon has written a sweet, funny small town romance in Crazy Little Thing Called Love. It is incredibly easy to fall in love with all the characters and especially with the charm of the Hazelnut Inn itself. I thought there was a nice blend of humor, romance and family drama which created a smooth flow to the story. It was also easy to relate to Etta and Donny Joe as individuals as well. Etta just wanted to put down roots and build a home for herself after having to move so often as a child; and I loved how she shows her loved ones she cares by feeding them, as she's a formally trained chef. Donny Joe was misunderstood as a teen, having grown up on the wrong side of the creek, and still remains a bit of an enigma in town but he certainly redeems himself by the end of the story. I highly recommend this charming romance!
Book Info

Publisher: Forever (June 25, 2013)
Here comes trouble…
Etta Green kissed Everson, Texas, goodbye years ago. A big city chef, she intends to return only long enough to settle her beloved grandmother's estate and then hightail it back to Chicago. But Grammy Hazel had other plans. In her will, she left Etta part-ownership of a B&B that's about to go bankrupt before it even opens. And what's worse–Etta's partner is Donny Joe Ledbetter, a handsome devil with some serious bad boy charm. Growing up, Donny Joe didn't give Etta a second glance. Now, she's got his whole attention.
A far cry from the shy bookworm he once knew, sexy, spirited Etta Green is nothing but trouble. Yet Donny Joe decides to play nice. After all, the quicker they open the B&B, the faster this exasperating–and irresistible–woman will be on her way. Donny Joe has never been a one-woman kind of man. But one crazy little moment of unforgettable desire may change his mind–if he can convince Etta to stay for good…