In Crazy Pucking Love (Taking Shots #3) by Cindi Madsen, Dane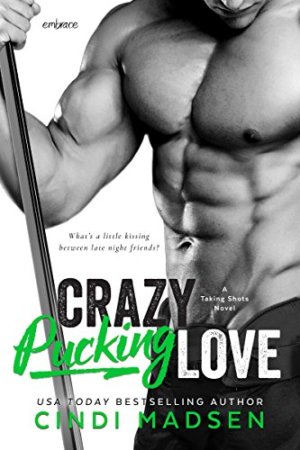 Kowalski has never met anyone like Megan Davenport. Unfortunately, he's not looking for a relationship, and besides, there's one big reason why they can't be together. She's the sister of one of his hockey teammates, and big brother has warned everyone she's off limits. Except there's something about Megan that makes him throw caution to the wind, and soon he's breaking his team captain's rule to spend time with her. Can they overcome all the obstacles keeping them apart?
"I think you'll live."
"What a relief," he said, lifting his hand and placing it over mine. "But for the record, I think you should stick with darts."
"I hit you in the eye, and you're still willing to hand me a dart? Now that's trust."
He laughed. "Let me rephrase. I think you should stick with darts, while I stand behind you, far out of range of anything you might toss, flick or kick."
I am a big fan of Ms. Madsen's books, whether they're her young adult or adult romances, and this sports romance series of hers is a really good read. Each book can be read as a stand-alone and this story was captivating, emotionally-charged and one I finished quite quickly because it encompasses the opposites attract and forbidden romance tropes. The way this story opened with the word equations and what they equate to for Megan illustrates that she is going to be happier now that she has a fresh start being away from home and at college. However, it was the moment that Megan and Dane met that really drew me into this story. Certainly, she scores a bullseye despite missing her target while playing a game she seems good at as the story progresses.
The dialogue was really entertaining due to the main characters back stories and the obstacles they have to overcome. Such as winning Megan's brother over, the guilt Dane has over his ex-girlfriend's troubles and if the hero can come to the realization that he's good enough to be with Megan. She's a rich girl. He's from the other side of the tracks. How can they possibly be together? However, what I liked most about the dialogue was the playful banter between the main characters. They tease each other about how they first met, about how she's a total nerd when it comes to her courses, and of course, Dane mocking her about things she likes.
"Oh no. Math and One Direction – I'm afraid we can't be friends anymore. Not even late-night friends."
"Oh, come on. It's catchy. They should've played one of their songs at the bar. I better go back and request it." I acted like I was lunging for the door, and Dane caught my arm.
"No way. I'm cutting you off." He went so far as to reach forward and punch off my radio.
My mouth dropped. "You can't just push my buttons."
Mischief flickered through his eyes. "Funny, because I find I rather like pushing them. Maybe I should push some more."
Megan was a really good heroine. She hasn't had it easy, and went off the rails a bit after her parents died by getting into trouble just to get any bit of attention she could. So, college is a fresh start for her. Somewhere she can find friends, not be so lonely and hopefully cross some items off a list she's made. Also, she's kind, caring and I liked what she did for Dane's sister. The young girl needed someone to talk to such as a therapist and if it was in Megan's power to aid her in any way she'd do it. But what I liked most about Megan was she was finding herself loving life again; getting over her depressed, lonely feelings with the fun she has, the friends she meets and by achieving most of her goals.
While Dane, he has so much to overcome. The fact that Megan is the sister of his hockey team's captain makes it hard because he likes her so much. She's the first girl to capture his interest since his ex, and although he's been warned that she's off limits, there's no way he can stay away. Then there's his ex-girlfriend who he has a lot of guilt over, because he wasn't there at a time when she needed him most. What can he do to help her? How far will his ex go until he's ready to realize that enough is enough? His ex obviously needs help, but is she willing to accept it?
Overall, this was a really good novel that encompassed plenty of emotion and a strong 'opposites attract' romance that illustrated their strong chemistry wonderfully. The way this story ended had me cheering for this couple, as I was anticipating what Dane would do to win Megan back after what he did to tear them apart. Recruiting the secondary characters to help him was a good move, but the song he chose to get her attention was endearing. Luckily, she liked the band that sung it. I would recommend Crazy Pucking Love by Cindi Madsen, if you enjoy the forbidden romance or opposites attract tropes.
Book Info:

Publication: November 7th, 2016 | Entangled Publishing | Taking Shots #3
I just met the girl of my dreams. Megan Davenport is funny and smart, and she's as much of an insomniac as I am. She's also my team captain's little sister, which I only found out after our passionate kiss. Megan is completely off-limits—her brother makes that very clear—and I know better than to think I can keep a relationship going during hockey season anyway. But that doesn't mean we can't be late-night friends, right? The only problem is, love makes you do crazy things, like breaking all the rules.