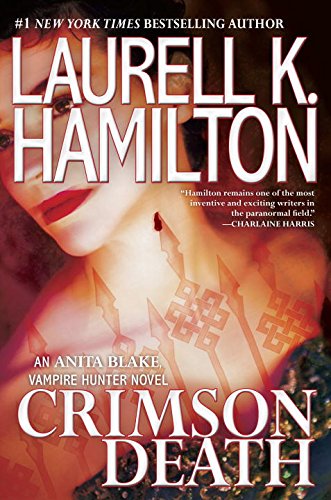 In Crimson Death (Anita Blake, Vampire Hunter #25) by Laurell K. Hamilton, vampires aren't supposed be living in Ireland, but it seems something strange is going on across the ocean with dead bodies turning up with tiny holes in their necks. Even worse, whatever is going on isn't good for Anita's vampire servant, Damian. He's suffering badly with night terrors and sweating blood, leading Anita to suspect that his old master could be responsible. Determined to learn the truth, she teams up with Edward in Ireland to hunt down those causing trouble before any more bodies turn up.
"I'm American, Anita, we're all cowboys, didn't you know that, darling?" he said in a drawl so thick it sounded like you should be able to do a Texas two-step on it.
"Yeah, like all the Irish are leprechauns and go around saying Top of the Morning to you."
"If I had my way, you'd be here seeing all the leprechauns."
"What do you mean, if you had your way?"
When this series started, I really looked forward to reading each book when it was released, but ever since book ten of this series (Narcissus in Chains), I've been getting more and more annoyed by the relationships Anita has with her men. There are just too many for me to handle, and quite frankly, I think Ms. Hamilton is beginning to focus too much on Anita's relationships and not nearly enough on the investigation side of things when it comes to her job in hunting rogue vampires and shape-shifters or raising zombies.
However, in saying that, every time I read one of Ms. Hamilton's Anita Blake books, I find myself totally captivated by what Anita needs to do to ensure the safety of humans and those supernatural that are doing the right thing. With this book, readers are taken on quite the adventure with Anita heading to Ireland, and although it takes quite a few chapters for her to get there – since those that are already hunting the rogue vampires (besides Edward) seem reluctant to accept her help – I could not put this book down once she starts investigating.
"Maybe I'll learn a new recipe we can use at home," Nathaniel said.
"Sure, but after food, Nicky says a couple of hours sleep will help me deal with the jet lag."
"You having a problem with it?" Nolan asked.
"She's crankier than normal," Dev said.
Edward laughed out loud, his head back, his whole face shining. "Crankier, and no one's bleeding, or dead yet?"
The dialogue was intense due to the investigation; what happens to Anita and her triumvirate in Nathaniel and Damian; what is happening to Damian with his nightmares and blood sweats (which was a little spooky); what Anita needs to do to figure out who is breaking vampire rules and the ever burning questioning of whether her powers as a necromancer will work in Ireland. Moreover, I liked that Anita finally began to find peace with her triumvirate and worked hard to make it work because she needed Damian, if she was ever to survive what she faced.
I really liked the introduction of characters readers have never met until this book. The fae; the vampires and their animal to call that they were up against, and the people Edward was working with. Anita had to prove herself and faces some tough challenges from each of them. Can she work with Edward and the team he's currently working with in Ireland? Will the Fae give her grief over her abilities or will they accept her help? The tough challenges Anita faces, especially towards the end of this book are hard, yet the way she overcomes them certainly proves she's still one of the best vampire hunters.
Overall, this was a good book with an ending that brought tears to my eyes because of what happens to one of Anita's men and with her, yet she's tough and proves it with how she uses her powers to take down her enemy. I would recommend Crimson Death by Laurell K. Hamilton, if you enjoy strong heroines that hunt vampires but doesn't have an easy time when it comes to relationships.
Book Info:

 October 11th, 2016 | Berkley | Anita Blake Vampire Hunter #25
In her twenty-fifth adventure, vampire hunter and necromancer Anita Blake learns that evil is in the eye of the beholder…
Anita has never seen Damian, her vampire servant, in such a state. The rising sun doesn't usher in the peaceful death that he desperately needs. Instead, he's being bombarded with violent nightmares and blood sweats.
And now, with Damian at his most vulnerable, Anita needs him the most. The vampire who created him, who subjected him to centuries of torture, might be losing control, allowing rogue vampires to run wild and break one of their kind's few strict taboos.
Some say love is a great motivator, but hatred gets the job done, too. And when Anita joins forces with her friend Edward to stop the carnage, Damian will be at their side, even if it means traveling back to the land where all his nightmares spring from…a place that couldn't be less welcoming to a vampire, an assassin, and a necromancer.