In Crossing Hearts (Atlanta Skyline #1) by Rebecca Crowley, Eva Torres loves soccer and working for the Atlanta Skyline as a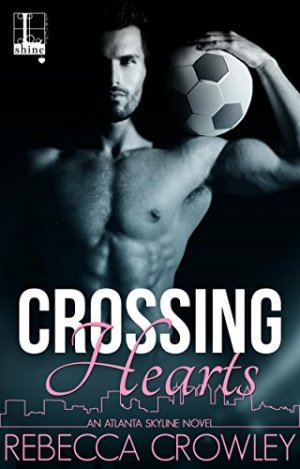 translator is a dream job. Never has she been tempted by one of the players she's translated for, but the new Chilean player she's been assigned to, Rio Vidal, makes her want to break her rule of not getting involved with a player. Can they find a way to be together, or will Rio's ambition to be the best lose them their chance at happy ever after?
"I don't have a girlfriend," he offered.
"I'm sure you'll have no trouble finding one."
"Is that a proposal?"
"Absolutely not."
He sat back in his seat with a playful smile. "Eva Torres, woman of many mysteries. What would you be doing tonight if you weren't in this car with me? Hitting the town with your boyfriend? Is he a big guy? Should I be worried?"
Ms. Crowley is a new author for me, but after reading this book, I'm looking forward to more of this series, because of Rio's teammates and how good they were as secondary characters, especially Nico. Right from the beginning, this author weaves a charming tale encompassing two fantastic characters, well-written dialogue, and a fast-paced plot that includes quite a bit of sporting action. The way this story started with Rio finding himself loved by his fans had me wanting to know more about him. How did become such a well-known player to Americans? However, it was the moment the hero and heroine came face-to-face for the first time that I absolutely loved. How could Eva possibly be indifferent to his cocky attitude and trademark grin?
As for the dialogue, I loved every moment of it. Because it's intense at times due to the main characters back stories and what Eva learns about her mother, but there are also some really good light-hearted moments that balance it to make this book a worthwhile read. Rio's first press conference had me laughing, especially when the first reporter asks him a question and his response to Eva when she tells him the question. Why would he think the reporter is angry at him? Moreover, I liked learning about Rio the more I read of this story. He pushes himself too hard to be the best, which is understandable, because if he didn't have soccer then what would he do with his life. But at the same time, it made him a stubborn fool that made it hard for Eva to remain neutral. Will she trust him; or will she do what's right for him, even if it means betraying his trust?
"Make me an offer."
He drummed his fingers on the table while he thought. "Half of your slice for an extra hour of English-language lessons."
She laughed. "Are you crazy? I lose half of my cake and I have to listen to your crazy pronunciation for an extra hour? No way."
Eva is strong, brave and I liked how determined she was to remain indifferent to Rio, even if in the end she finds it too hard to stay away from him. She's a total professional, and it wouldn't look right if she got involved with a player she was translating for. Moreover, I felt sorry for her when it comes to the moment when she learns the painful truth about her mother and I could understand why Rio would be the first person she turns to in a time of need. They've grown close and she trusts him in a way she's never trusted anyone besides those she calls family.
While the hero, he was absolutely fascinating and had me hooked from the very beginning. He lives and breathes soccer and there's nothing he'd rather do than play the game he loves. He's also stubborn when it comes to pushing himself to be the best. If he doesn't train as hard as he does, then he believes he could very easily lose his spot on the team and there's no way that is going to happen. Furthermore, I liked the close relationship he has with his family, because he's such a good sport about his mom telling stories about him growing up.
"So what happened last week?"
She exhaled. "I was embarrassed. I didn't want you to see that side of me."
He frowned. "Which side?"
"Emotional. Irrational. Weak."
"I haven't seen any of that yet. I saw a strong woman who's survived a hell of a lot get the devastating news that a long journey had ended, and ended badly. That's all."
Overall, Ms. Crowley has really impressed me with this first book in her Atlanta Skyline series where this couple's strong chemistry spilled over onto the pages in wonderful sex scenes that showed just how right these two are for each other. The way this story ended had me feeling sorry for Eva. She didn't deserve the way Rio treated her. Yet, in saying that, I liked how he made things right between them. Who knew a priest could be so devious in bringing them back together? Or that Rio would find such a creative way to show Eva how much he loves her and convince her to spend the rest of her life with him. I would highly recommend Crossing Hearts by Rebecca Crowley, especially if you enjoy sports romances or enjoy books by authors Amy Andrews or Sarina Bowen.
Book Info:

Publication: March 21st, 2017 | Lyrical Shine | Atlanta Skyline #1
FEVERED FATES
New to the U.S. soccer scene, not to mention the English language, compact yet explosive Chilean soccer legend Rio Vidal is driven to define a role on his new team, Atlanta Skyline. But he must also adapt to a new culture—and accept that he can't do it alone. His beautiful interpreter, Eva, has been his voice, his refuge. But she is becoming so much more. If only he could convince her he isn't like the other men she's worked with, players on—and off—the field.
As a translator for pro athletes, Eva Torres is used to dealing with self-interested super stars. But Rio seems different, and she's blindsided when he locks eyes with her across a church pew. By now, after weeks of close contact with the endearing athlete with whom she shares a language, her thoughts are far from holy. She must remind herself flirtation is probably just his default style. Plus, she's the only one he can really talk to. But when his ambition threatens to derail his career—and their deepening connection—they'll both have to lay their hearts on the center line . . .