Cuffed by His Charm by Stacey Kennedy is the fourth and final book in the Dirty Little Secrets series by Stacey Kennedy. The cover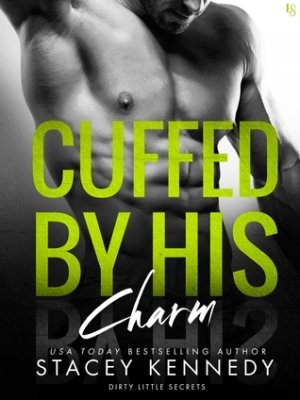 alone made me want to read this book, combined with the fact that I've read from this author before and enjoyed her characters. Cuffed by His Charm doesn't disappoint!
A scandal rocks Gabe O'Keefe's life and leaves him making a regrettable decision. He thinks he knows who sold him to the tabloids, but he couldn't have been more wrong. Gabe has wanted McKenna Archer for a while, but he doesn't get involved with his employees. When he gets word that it was McKenna who sold him out, he decides to take what he's always wanted. Maybe then, he can move on without her in his life. Only problem…she didn't sell him out and now he's made a huge mistake that has driven a wedge between them.
McKenna can't believe Gabe thinks she's the one that betrayed him. Of course, nothing can ever go right in her life, so this is just the icing on the cake. McKenna might not have betrayed Gabe, but her brother did and now she's in danger. Will Gabe protect McKenna or is she destined to be on her own, for the rest of her life?
Gabe grows on you. I wasn't too impressed with him in the beginning. Even if McKenna was the one to betray him, his actions left a sour taste in my mouth. But, he does redeem himself in a big way and you can tell he really cares for McKenna. He's very loyal; to his friends and to McKenna. As for McKenna, she's a strong heroine and doesn't let her past define her. She could easily give up, but she doesn't and her loyalty to her brother is fierce and unyielding. That being said, my only complaint about her, was how many choices she gave her brother. There's a point where you just need to cut the cord, and it should have happened a long time ago.
McKenna and Gabe certainly don't lack passion. Together, they are hot, focused, and know how to heat up the bedroom. There is some BDSM undertones in this story, not as heavy as other books I've read, but still present. Overall, a very entertaining read filled with action, suspense, and enough emotion to satisfy your needs.

Book Info:

Publication: November 14th 2017 | Loveswept | Dirty Little Secrets #4
A tabloid scandal unites a powerful mogul and a woman from the wrong side of the tracks in this tantalizing novel from the USA Today bestselling author of Bound Beneath His Pain and the Club Sin series.
The multimillionaire owner of a chain of successful Irish pubs, Gabe O'Keefe loves being in the spotlight almost as much as he loves women. But when all his secrets are exposed in a shameless tabloid, his glistening reputation takes a hit. What hurts most is learning who sold him out: sweet and sensual McKenna Archer, his own employee. Gabe thought he could trust her. But now he's got bigger problems than keeping his hands off McKenna.
After putting a difficult past behind her, McKenna would never betray Gabe. But she knows someone who would: her brother, a compulsive gambler who owes money all over town. To make things right, McKenna will have to set aside her feelings for her boss. Easier said than done. Gabe oozes pure temptation. But when they team up, McKenna sees that he isn't the manwhore she always thought. He's strong. He's real. And the heat between them is the only thing that makes sense anymore.