Cutest Couple by Kate Davies is the second book in the "Girls Most Likely To…" series.
If you truly judge a book by it's cover, you might think these books are fluffy and cute – which is true, to a point.
I'll start my review by telling you that I absolutely LOVE series' that tell their story concurrently. This series is set during the trio's 10th high school reunion, and you can see little hints of the other two couples throughout each book.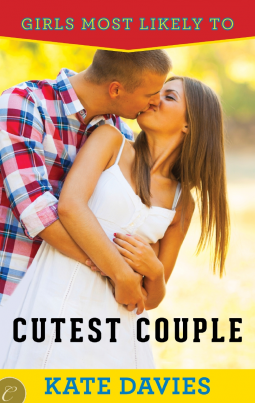 I've read Books one & two – and it's really nice to see glimpses of Kelsey and Nathan from "Most Likely to Succeed" in "Cutest Couple". It seems to be a novel concept since I haven't seen it too often. There are also references to Tess and Jeremy, who will be featured in book three.
The story here is about Bree and Marc, who had a relationship their last two years in high school, but separated when Marc told Bree he was joining the military. Bree lost her father who was also a military man, so Marc leaving this way was a deal-breaker for her. The night they fought, Marc was going to propose, but instead, Bree told him she never wanted to see him again.
Little did she know that she was carrying his child. She wrote him a letter and he never responded, so she allowed her hatred of the military to get in the way of tracking him down.
Marc feels blindsided and betrayed, while Bree is ashamed but still feels partly justified. I liked how Ms. Davies wrote the conflict so the reader can see both sides and sympathize with both characters. I wouldn't have been able to hate either one of them even if I wanted to.
"Cutest Couple" is very well-written and the subject is tackled with realism and injected with humor throughout. I recommend reading the whole trilogy, although it's not necessary in order to understand either book.
I really can't complain much, except to say that I wanted an epilogue. I'm probably spoiled since a majority of romances include a "what happened after" chapter, but in this case, I felt like the story ended abruptly, and an epilogue would have tied a bow on this wonderful story.
I give it four solid hearts, and I'll tack on another half if book three has an ending chapter that wraps up all three stories.
Book Info
Publisher: Carina Press (April 29, 2013)
Book two of the Girls Most Likely To…
Ten years ago, Marc and Bree were voted Cutest Couple—until a graduation-night argument destroyed their relationship. Unable to contact him, Bree had no choice but to forget Marc—and raise the son she never got to tell him about.
Marc got Bree's message loud and clear when he never heard from her again. Now stationed near his hometown, he sees their high school reunion as a chance to make peace with the past. But after one glimpse of Bree, he knows he never really got over her. And after one glimpse of her son, Marc knows he's the boy's father…
Despite the secrets and lies that kept them apart, Marc and Bree can't resist picking up where they left off. But when the weekend is over, it may be too late to build the future they once dreamed of.
For Kelsey and Nathan's story, check out Most Likely to Succeed.
22,000 words