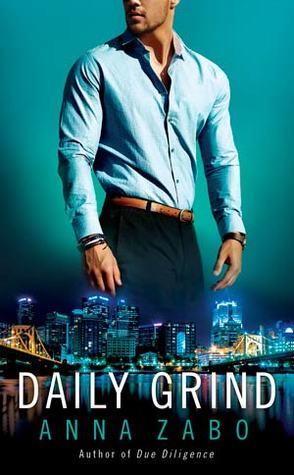 Daily Grind by Anna Zabo: Brian is the owner of Grounds N'At, the coffee shop that has taken over his life. Brian can't stand the thought of giving up control over his shop and has become a workaholic. He's been working more and more shifts to cover for his baristas which means he can't keep a relationship alive when the shop is his first priority. He wants more in life, but he isn't sure how he would even take that first step.
Rob is newer to the city as he just relocated from Chicago. He's looking forward to experiencing the restaurants and hiking and biking trails around the area, but it would be more enjoyable with a partner. He would love to be in a relationship, but he tends to work a lot and is carrying the scars from his last boyfriend.
Brian is surprised by the overwhelming attraction he immediately feels for Rob. He's always been attracted to men and women, but he's never been tempted to date a man before. Between the red hair and sexy British accent, Brian finds himself looking forward to Rob coming in for another cup of coffee and flirting.
Rob put down the mug. "What is this?"
"You tell me." Brian lowered himself to his stool.
Well, he deserved that. "This," he said, "is two men seeing how the other reacts."
Brian swallowed a chuckle. "That's what I thought."
They quickly form a bond over their mutual love of art, photography, biking, and hiking. It isn't long before their friendship becomes so much more with their clearly apparent chemistry. They banter, flirt, and encourage each other.
Rob's chuckle was low. "Then I'll make sure to drag you away whenever I can."
Perfect. "I can be stubborn and pigheaded."
"No." Rob mimicked surprise. "You? Never!"
Daily Grind is flirty, sexy, and entertaining. Anna Zabo provided strong, confident main characters who nicely balance each other. Ms. Zabo created great characters in Brian's friends, family, and customers. Daily Grind can be read as a standalone book in the Takeover series. Fans of Nicole Edwards and Stacey Kennedy will enjoy Daily Grind.
Book Info:

 Expected publication: February 21st 2017 | InterMix | Takeover #4
A man discovers that love can show up when you least expect it—and in a much different form—in this piping-hot romance from the author of Due Diligence and Just Business.
Brian Keppler, owner of Ground N'At, the coffee shop beneath SR Anderson Consulting, doesn't have time for a relationship. His most recent girlfriend broke up with him because he'd become married to his shop, which is falling apart without his favorite barista, Justin.
As he struggles to stay afloat, the arrival of handsome British high-tech whiz Robert Ancroft becomes another complication. Rob quickly becomes a fixture at the shop with his sharp wit and easy charm, and Brian soon finds himself looking forward more and more to Rob's visits—to the point where his heart skips a beat when he walks in.
But will Brian be able to come to terms with his previously unexplored sexual identity and find happiness now that he has a chance?