Dangerous Testimony by Dana Mentink completely lives up to its' genre as a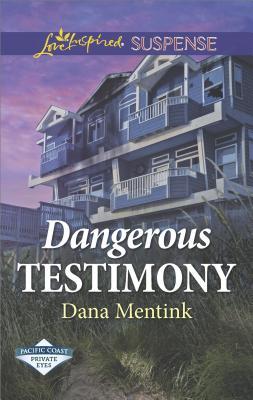 romantic suspense, with strong emphasis on "suspense'. This book had me up until 3 in the morning wanting to know what would happen next. So many twists and turns!
After Candace witnesses a killing committed by a gang member at a gas station, her commitment to testify is the cause of repeated, sinister threats on her life and her young daughter Tracy's life. Candace must use all her skills as a detective, combined with her sisters and mothers' detective skills, and her long time friend Marco's SeAL tactics to stay a step ahead of a truly evil gang leader. Marco brings in fellow SeAL team members to help keep Candace and Tracy safe in a self designated safe house.
It seems like each time Candace leaves the safe house to go to a destination that is necessary ( ie a doctors office, a courthouse, etc.), the gang leader (Jay Rico) and or his subordinates find her and attempt to kill her and at the very least terrorize her. The frequent twists in the story kept me on the edge of my seat throughout.
I highly recommend "Dangerous Testimony" to readers who enjoy a well written suspense and romance. Plan fo r a sleepless night!
Book Info:

Publication: April 4, 2017 | Love Inspired Suspense | Pacific Coast Private Eyes #4
Four weeks before she's set to testify at a gang murder trial, someone is determined to make sure that Candace Gallagher Andrews never takes the stand. When nowhere is safe for the private investigator or her little girl, Candace turns to the only person she can trust longtime friend and former navy SEAL Marco Quidel. For Marco, protecting Candace is not just another duty. As the trial date nears and the killer stalks ever closer, Marco knows fear for the first time the fear of losing Candace and her daughter. But while Marco begins seeing Candace as more than just a friend, her late husband's memory is never far from her mind. So he must keep Candace alive—and not get emotionally involved—long enough to put away a killer.