In Dangerous To Know by Dawn Ryder, Zoe comes from a military family. Both her father and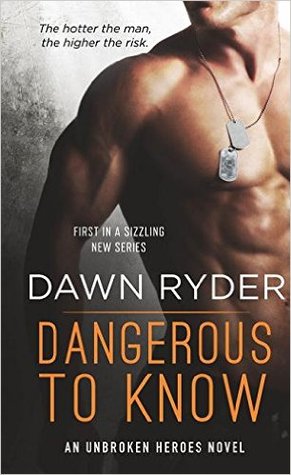 brother are away on secret missions. So when her brother, Bram, calls out of the blue and tells her if she notices anything suspicious to call him, she begins to suspect that something is going on.
Special Ops team member, Mercer, and his group suspect that either Zoe or her brother are traitors to the country. Mercer's job is to get close to Zoe to gather evidence to prove that she's guilty. The only problem is that the more time he spends with her, the more he begins to doubt her guilt.
Because he doubted she was guilty. it more than a tickle now, it was a full feeling that they'd followed a very well-laid trail. Zoe was more than just a mule, she was also intended as the scapegoat. A plan that worked a while lot better if she was dead and unable to defend herself.
I enjoyed the suspense of the story, but I didn't really feel a connection between Mercer and Zoe. She says she doesn't want to sleep with him because she doesn't know him, then she turns around and sleeps with him. The two don't seem to know a lot about each other except for in the bedroom, where they spend a lot of time. After an attempt on her life ends up with Zoe discovering who Mercer really is and why he wanted to get close to her, she's mad at him for a few minutes then turns around and has sex with him again. It just wasn't believable.
Another thing that bothered me was that there's no real closure to the story. Readers discover who the mole on the team is, and it's revealed who's backing him, but nothing comes of it. It's clear that part of the storyline is going to carryover to the next book in the series, so if you're looking for it to be wrapped up in this one you're going to be disappointed.
It wasn't a bad book but I really wished I felt more of a connection between Mercer and Zoe. If you like romantic suspense and don't mind the fact that the traitor storyline isn't completed and will continue on to the next book, then you may want to consider trying this one.
Book Info:

Publication: March 1, 2016 | St. Martin's Paperbacks | Unbroken Heroes #1
She's too good to be bad
A bad-boy member of an elite Special Ops team, Mercer has never been assigned an undercover mission he couldn't complete. But when his latest job requires him to gain the trust-and get into the bed-of his newest target, the sexy, fiery colonel's daughter, he has a whole new challenge ahead of him. All evidence points to her being a traitor to the country he's sworn to protect, but the crackling desire between them is too strong a feeling to ignore…
He's too bad to resist
Zoe has always kept her secrets close to the vest. The only woman in a decorated military family, she's been taught that to let someone close is to flirt with disaster. But when the dangerously handsome, alpha-strong Mercer comes blazing into her life full-speed, it's all Zoe can do to resist his wicked seduction. As danger circles closer, Zoe must decide if she can trust him to protect her-but there's no way he could be bad when he makes her feel this good…