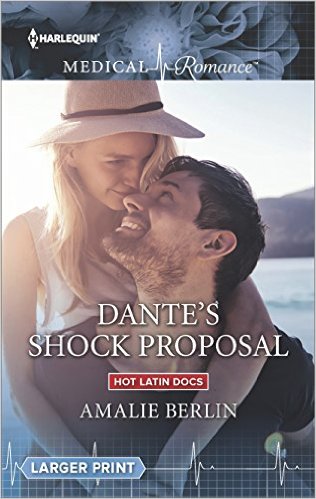 In Dante's Shock Proposal (Hot Latin Docs #4) by Amalie Berlin, with all his brothers finding their happy ever afters, Dante Valentino is feeling a little left out, even though he's happy for his younger brothers and his twin. So, when someone from his professional life finds her way into the club he owns and has kept secret from his family, Dante discovers Lise Bradshaw might just be the perfect woman for him. Will she accept his proposal, or is their relationship doomed before it can even begin?
"Do you have a cat?" he asked, unable to help himself.
"Because I'm unmarried and twenty-nine? How many cats am I supposed to have at this point?"
"You just walked all the way around that chair about one and a half times before you sat down. My guess was either cat or a musical-chairs aficionado."
"You're funny today." Yet she neither looked or sounded amused.
This is the last book of the Hot Latin Docs series, and with the first three books being really, really good, I couldn't wait to dive into this story containing Dante Valentino. He and his brothers have a tight relationship, which isn't surprising with them losing their parents in their teen years, and I loved every moment the brothers conversed just as much as I did when the hero and heroine bantered. The way this story started drew me into it immediately due to the heroine's dilemma. At least, she's lucky that Dante comes along and makes her feel desirable.
The dialogue was well-written, and a wonderful combination of intense, emotional and playful. Lise is a woman that keeps to herself when she can and doesn't have any close friends, and I liked that Dante was willing to get her to open up and see that she can have everything she wants in her life – love, family and happiness, if only she's willing to let him in. Certainly, they hit a few snags during their growing relationship that made me wonder whether they'd ever get their happy ever after, but I was thrilled that everything worked out once Dante's big secret was revealed to those closest to him.
Lise was an intriguing heroine, and I could sympathize with her when it came to her dream of being a mother and wanting to go it alone. It was hard for her to trust, but somehow Dante managed to break down her walls, even if he had to deceive her to do so. She's also hard-working, kind and caring, which is proven by what she does for a baby that could end up alone. But most of all what I liked about the heroine was the decisions she made and how right they were for her, despite the fact that she could get hurt. Can she trust Dante enough to let him into her life?
While Dante, he's hard-working, confident, loyal and I liked how determined he was in convincing Lise that together they can have everything she's ever wanted. She doesn't have to be alone forever. Besides, Lise is good for him. She makes him face things in his past that he's kept from his brothers, which help him heal and dissolve his guilt when he couldn't make the tough decision his twin brother made when it came to their father's death. Also, I liked how kind and caring he is towards Lise, especially after what happens to her.
"You may have squirrels nesting in the back of your hair."
His playful tone softened her irritation a little, but her fire deserting her just left a glum feeling behind. "I can't brush it effectively, and I was asleep on the sofa before you got here. Sexy, right?"
"I would've said cute, but you're so grouchy that it kind of negates the cute factor." He reached over and finger-combed it down a little, the gentle touch warming her.
Overall, this fourth book of the Hot Latin Docs series ends the series wonderfully. The romance between this couple shows just how right they are for each other, and that they need each other to heal from the wounds of their pasts, because being with Dante gives Lise the family she's never had but always wanted. The way this story ended was intense due to how Dante's secret is revealed to his brothers, but in saying that, it needed to happen for Dante and Lise to have any chance at happy ever after. I would recommend Dante's Shock Proposal by Amalie Berlin, if you enjoy the fake relationship or marriage of convenience tropes or a story where the hero makes the heroine an offer hard to refuse.
Book Info:

February 7th, 2017 | HQN Medical | Hot Latin Docs #4
An inconvenient desire
Growing up in the midst of her parents' fraught union, surgical nurse Lise Bradshaw has never wanted nor needed a man by her side. Until a sensual chance encounter with Dr. Dante Valentino on the dance floor of a Miami club sparks a full-blown passionate affair…leading to a shock proposal!
Dante knows what he wants—a family—and what he doesn't—love. But as the fire blazes between him and beautiful Lise he realizes that he's inconveniently falling for his convenient fiancée!