In Dare to Desire by Carly Phillips, Alex Dare's life has revolved around football since he was a young kid. And becoming quarterback for the Tampa Breakers was a dream come true. Unfortunately, that dream crashes and burns when he gets injured on the field, putting an end to his award winning career. Angry and having a hard time dealing with his life changing injury, he pushes everyone in his life away, even Madison Evans, whom he's been casually dating.
"There is no we, sweetheart. It was fun. Now it's over."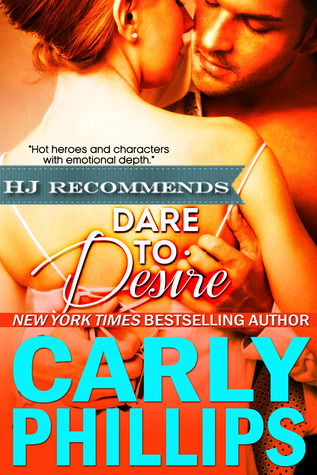 Months later when Alex has realized the err of his ways, a new job opportunity allows him the chance to possibly make amends with Madison as they work together on a project. He definitely has his work cut out for him, though. She's not the type to trust easily after a seriously troubled childhood, and the way things ended before hurt her deeply. But Alex will do whatever it takes to make Madison see that he's a changed man. As he slowly begins to build a new relationship with her, each of them must deal with people from their past threatening to ruin all they've accomplished.
"Why are you suddenly back in my life, pushing for dinners, wanting to help me, claiming you care?"
Her eyes filled, and his gut clenched at the sight, reminding him of her pain-filled expression when he'd callously broken up with her months ago.
"Because I do."
"People who care don't treat each other the way you treated me."
Madison Evans grew up in and out of foster homes after her parents left her. Trust is not a word in her everyday vocabulary, and something she doesn't give to many people. She stupidly thought she shared a connection with Alex Dare, letting her emotions get involved as they dated. So the day he kicked her out of his hospital room was the day she swore she would never trust him again. Not wanting to jeopardize her new job, Madison agrees to try working with Alex on a football based project a few month later, knowing it's a bad idea to be so close to the sexy athlete. Soon, her traitorous emotions are telling her to give in to his flirting. While she understands an injury like Alex went through can change a person, which his family attests to, she's not sure she'll survive if she puts her trust in him, only to have him let her down again.
"Has anyone ever said no to you?" she asked, hoping he didn't notice the tears of frustration in her eyes, the pain in her voice for the things she wanted but could never have.
"Not when it mattered," he said, his honesty surprising her. "And you matter. I also know how to work for what I want. And Madison?" He looked directly into her eyes. "I want you."
Dare to Desire is another wonderful contemporary romance about the talented Dare men by Carly Phillips. I mean, the opening paragraph alone sets up the tone of the book perfectly, with its sexy simplicity:
'Quarterback Alex Dare took possession of the ball the same way he took possession of a woman's body. With skill, finesse, and the absolute certainty he'd score.'
I basically devoured this book, I enjoyed it so much. I love that Carly Phillips isn't afraid to base her stories on gritty, involved situations, making her characters really have to work hard to find their HEA. Madison had a deeply unsettled childhood which then created serious trust issues in her adult life. She had to overcome a lot and used her misfortune to be able to help others in need. I thought she was a strong female protagonist who really had a good head on her shoulders and a lot of love to give to the right person.
Alex, on the other hand, was a star athlete who was used to the finer things and only had casual relationships. I didn't know if I would like him much after the way the book started, but he did a one-eighty and so redeemed himself. If you've read book one, Dare to Love, you already know that Alex can be a caring guy, which we learned about in his friendship with Riley. And we got to see a lot more of that here, which was fantastic. But that's not to say he's not still a normal guy in the prime of his life. He definitely had a dirty mouth and the love scenes between himself and Madison were very, very hot!
I think whether you are already a Carly Phillips fan or not, you definitely will be after reading Dare to Desire. Read it as a standalone or as part of the Dare to Love series…it doesn't matter. Either way, you will enjoy getting to know Alex and Madison.
Book Info:

Published April 10th 2014 by CP Publishing
Quarterback Alex Dare, had it all — an all-star football career with the Tampa Breakers and his choice of willing women — until a severe injury forces him into early retirement. When he is offered a ground-breaking position with a rival team, he's intrigued, but there's a catch. He'll be working alongside the same woman he hasn't been able to get out of his head for too long.
Social worker Madison Evans grew up in foster homes and knows first hand what it means to have-not. She isn't impressed by Alex Dare's wealth or charm. Not since she fell hard for him once before, only to discover she was just one of his too-easy conquests. This time around Madison refuses to succumb to Alex so easily.
But Alex wants Madison. And if there is one thing Alex does well, it's to get what he wants. The playboy athlete must prove he's got game in more places than on the field. He means to prove that he's a changed man but no sooner does he begin to break through Madison's defenses when a new opportunity comes knocking and threatens her new-found trust. Can he make Madison take a risk and dare to love?