In Dare to Seduce (Dare to Love #8)by Carly Phillips, Max Savage may be successful in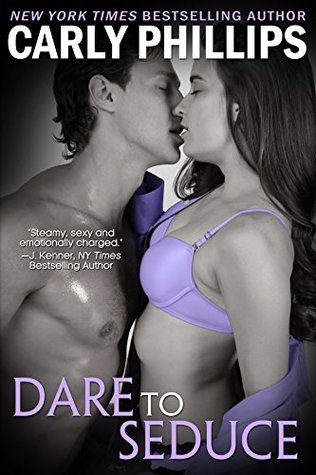 the restaurant business, but he is severely lacking in his love life. And he knows why. Her name is Lucy Dare and she is the younger sister of two of his best friends. Not wanting to cause a rift between them all, Max has tried moving on. But when Lucy appears in NYC again, he sets his plan in motion to capture her attention and not let it go until he has made her his own and helped her heal from her tragic past.
'Now his focus had to be on the woman who was living wrapped in the same pain of the past as he'd once been. He'd brought himself out in one piece, and he was determined to do the same with her.'
Lucy always had a crush on Max growing up but didn't think he would ever see her as anything but her brothers' bratty kid sister. Moving to L.A. was one way to cope with it. But she ended up becoming a successful designer along the way so it worked out. After a family celebration on the beautiful island resort of Eden brings Max back into her life in a big way, Lucy knows moving to NYC could make or break her emotionally. Max says he's all in when it comes to their relationship. But will her emotional issues push him away?
'If she ever were to get involved with Max, she'd fall hard, and if she lost him, she didn't know if she'd find her way back from the pain.'
Carly Phillips turned the heat up another notch in her latest Dare to Love novel, Dare to Seduce. And as the title suggests, seduction was first and foremost on alpha male Max's mind when it came to Lucy. Yes indeed, it was memorable and oh-so naughty…
"Max," she whispered.
"What?"
…"Why now?" she asked in a feeble attempt to halt the inevitable.
"Because it's long past time." He brushed his thumb over her damp lips before covering her mouth with his.
I am a big fan of the Miami Dares but I have to say that the NYC crew is giving them a run for their money! There is a level of erotica/BDSM to the NYC stories that works so well with the always well-developed characters and plotlines I know I will get from Carly Phillips. Now, it's not crazy intense as far as the level of BDSM goes. But there is, I guess you would say, an introductory level of eroticism to Ben and Lucy's relationship, so it added a fun and spicy side to their love scenes without being overwhelming for the average romance reader.
I think Max and Lucy turned out to be a wonderful addition to the series because of not only their heat level as a couple but also due to their connection over their painful childhoods. Max knew a bit more about Lucy's sense of loss than she ever gleaned from him, so he had a way of protecting her and doling out his past in small bits so as not to overwhelm her. Although quite honestly she still freaked out and had a few selfish moments of running away before giving in. But, hey…that just made the story that much more interesting in my humble opinion. 😉
Max. Wow. He was probably what I consider to be the ultimate alpha male. He was dominant in the bedroom, took control in his business dealings, was sweetly protective of Lucy, loyal to his other loved ones, and was just absolutely charming. Lucy was equally loyal and caring, but it was interesting that she was emotionally where Max had been about 5 years ago. So it was almost like getting a glimpse of his past through Lucy's struggles. I loved how he was able to sweep in and try to help her through the process. Where they ended up was exactly what I was hoping for, but boy didn't Carly Phillips put them through hell to get there!!
Who doesn't love a 'falling in love with the brother's best friend' trope? Lucy and Max proved that it makes for a passionate, super dramatic, rollicking good time of a story. Definitely recommended.
Book Info:

Publication: Published November 17th 2015 | CP Publishing | Dare to Love #8
Alpha billionaire businessman, Max Savage has had a thing for Lucy Dare for as long as he can remember but he values his long standing friendship with her brothers too much to cross the line. When Lucy shows up at an engagement party on the arms of another man, Max doesn't like the changes he sees in her and vows to make her his own.
It's now or never. Max can think of one way to convince Lucy she's with the wrong guy. He'll dare to seduce her … no matter what the consequences.
DARE TO LOVE Series Reading Order:
Dare to Love Series Reading Order
Book 1: Dare to Love (Ian & Riley)
Book 2: Dare to Desire (Alex & Madison)
Book 3: Dare to Surrender (Gabe & Isabelle)
Book 4: Dare to Submit (Decklan & Amanda)
Book 5: Dare to Touch (Olivia & Dylan)
Book 6: Dare to Hold (Scott & Meg)
Book 7: Dare to Rock (Avery & Grey)
Book 8: Dare to Seduce (Max & Lucy) coming 11/17/15
*each book can stand alone for your reading enjoyment
Thank you so much and enjoy!
Carly