Dare to Stay by Jen McLaughlin: Chris has made a lifetime of bad choices, but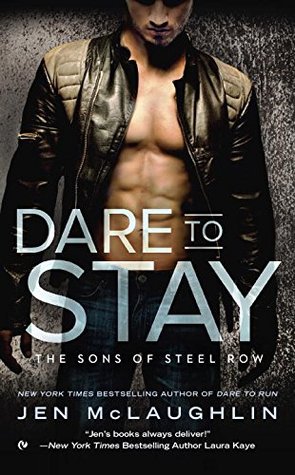 the latest one may just be his last. After growing up in an abusive home with a father as a high ranking gang leader, it's hardly surprising that Chris followed him into the life. He set things in motion to win his father's approval only to fully understand what being like his father has cost him when it was too late.
Molly is a smart, sweet kindergarten teacher who prefers to remain alone. After losing her father to senseless violence, she's chosen to remain unattached to prevent further heartache. Since losing her father, she's lived life cautiously and with an awareness of the violence in the Steel Row area of Boston.
Molly is shocked to run into Chris again. Chris was always the bad boy next door with the family of questionable background and means. She never knew quite what to make of him, but she can see he clearly needs some help. Turning away from him at this moment is the smartest thing to do, but Molly can't let him go and instead bullies him into staying with her.
"You do realize I'm not one of your students, right?"
"Y-yes, of course," I managed to say, not tearing my glance from his. The thing was, something about him commanded that I meet his stare. That I not back down. "But when you give blood, they give you juice and cookies, and you lost a lot of blood, so…"
"So you followed protocol," he finished for me, when it became clear I wasn't going to.
Molly is the light to his dark. Molly is determined to reach him and convince him to stay. Chris is reluctant to have anything to do with Molly despite the fact that he's always been drawn to her, but he can't fight himself and her. By taking refuge with her, they do have a chance to get to know each other, which only makes the growing attraction between them that much harder to fight.
"I'm getting you a cake and making you dinner tomorrow." I pointed a finger at him. "And you're going to like it. Capisce?"
"As much as I like it when you boss me around?" He shoved off the counter and came closer, each step cockier than the last. "What makes you think I'll still be here tomorrow, Princess?"
Dare to Stay is a sexy battle of wills as things are heating up for the Sons of Steel Row. Jen McLaughlin creates a potent mix of danger, heat, and heart as priorities are evaluated and sides are chosen. Ms. McLaughlin reels you in and finds a way to make Chris utterly endearing despite his lifestyle. While Dare to Stay picks up right where Dare to Run left off, you're given enough of the backstory so that Dare to Stay can be read as a standalone book. Fans of Jessica Clare, Jen Frederick, and Megan Crane will enjoy Dare to Stay.

Book Info:

Publication: August 2nd 2016 | Signet | The Sons of Steel Row #2
Fans of Katie Ashley, Joanna Wylde, Kristen Ashley, Sophie Jackson and Katee Robert will be thrilled by this dark, steamy series, from the New York Times bestselling author of the Out of Line novels, where one gang of criminals knows just how being bad can be so good…
Bruised and bloodied on Boston's mean streets, Chris O'Brien is reeling from the loss of his childhood best friend. But after barely escaping a hit placed on his head, Chris is desperate to live. A safe haven comes to mind – the home of the perfect girl from his childhood, Molly Lachlan. Before he has fully considered what it would mean to involve her in his mess, he finds himself on her doorstep.
When Molly agrees to let Chris inside her home, she realizes she's also letting him into her life. Danger and desperation are coming off him like steam, and yet she can't bring herself to turn him away. His bad boy charm always had a hold on her, but now there's a soulfulness and sorrow in him that she's never seen before. And despite the heart-stopping risk of helping him, she hopes against all reason that he'll stay…
The stakes are dangerously high…and the passion is seriously intense. Follow the exploits of the Sons of Steel Row in Dare To Run and Dare To Stay.