In Dare to Touch (Dare to Love #5) by Carly Phillips, Olivia Dare has spent most of her adult life focusing on her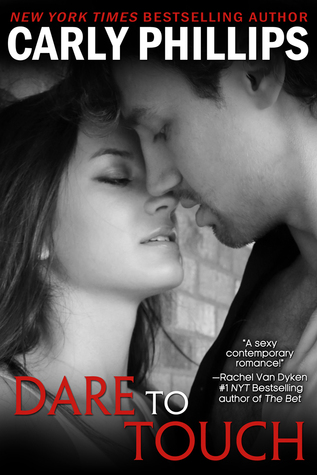 career with the Miami Thunder football team instead of on romance. After a disastrous relationship in her late teens, she's not willing to commit fully to a man anytime soon. But Olivia can't seem to keep Dylan Rhodes, the team's travel director, off of her mind. And he knows she's attracted to him. So she's not really surprised when Dylan keeps pushing for a date. What she wasn't expecting is the level of desire he brings out in her, or that she's contemplating a relationship for the first time in many years. Will Olivia be able to trust Dylan or will she end up pushing him away?
"…You just need to be brave. Don't shut down on Dylan now. Work through everything you have to before you blow a chance at real happiness. Because even a good guy like Dylan can only take so much."
Dylan Rhodes can be a patient man when he has his sights set on something he wants. And he's wanted Olivia for a long time. He's decided to step up his pursuit of something real with the beauty, knowing he'll have his work cut out for him. Dylan begins to break down the walls that Olivia has built up around her, finding out just how compatible they are. But when she starts to draw back and not let him in, he's forced to decide whether to give up the future he knows they could have together or to hold on to hope that it will all work out.
'Thanks to her past, she didn't trust that she was important, that she was enough to keep any man in her life. But she was. For him, she was everything.'
Sexy. As. Sin. That is Dare to Touch in a nutshell. Even though we're five books into this series, Carly Phillips still makes me wish I was in Miami so I could hang out with the rambunctious Dare family. And maybe some some of the cute football players too…
I swear with every new book I read in the Dare to Love series, I say 'this is my favorite one'. But I do think this time, Olivia and Dylan's story is going to be pretty tough to beat. It had all the crucial elements: chemistry, interesting plot, dramatic/tragic pasts, and well developed characters. But what I loved about this story was the raw, emotional place Dylan and Olivia were coming from, and how it could ultimately draw them together or push them apart depending on the choices they made. This was not a quick, easy courtship for them. Nope. They had to work for every single moment they had together and for a future they both so desperately wanted.
Like I mentioned before, Dare to Touch is a sizzling hot read. I love Ms. Phillips' writing style and how she's not afraid to show us just how passionate her characters are together. The love scenes were honest, oh-so-sexy, and yet still had a tenderness about them. (Even with Dylan's dirty mouth!!) I thought it was pretty realistic that the chemistry happened easily between Olivia and Dylan, but the trust factor while building a relationship took time. Of course the rest of the Dare family, as well as Dylan's sister and his close friend Meg, made appearances in this sequel. They were all involved in the story in one way or another, some of them adding chaos to the mix for our lovebirds. There was also an opening left for both Avery and Scott to potentially have their own stories heard in the future. Yay!
All of the books in the Dare to Love series can be read independently or in order. I think as you get to know this intriguing family you won't be able to stop with just one sibling's story. You'll probably be as hooked as I am, waiting not-so-patiently for Carly Phillips to release the next installment. 😉
Book Info:

Published January 11th 2015 by CP Publishing | (Dare to Love #5)
Olivia Dare, executive director of the Miami Thunder, and team travel director Dylan Rhodes share more than just a passion for football. Their chemistry is explosive–their feelings for each other intense. Yet Olivia has ended things for reasons he still can't fathom and she won't explain.
Unwilling to let something special go so easily, Dylan has been pursuing Olivia ever since. When the Pro-Bowl takes them to the tropical paradise of Hawaii, Dylan is determined to make sure their time together isn't all business. What happens in paradise is life altering but once Olivia admits her deepest secret and fear, will Dylan still want the forever he's been pushing for?