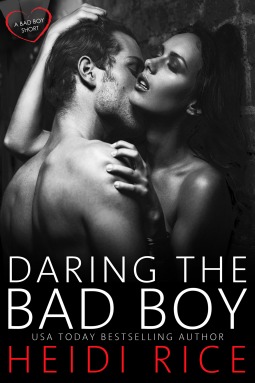 Daring the Bad Boy by Heidi Rice: If there was one word for this novella it would be HOT! Ms. Rice has somehow managed to give her readers an incredible mix of hot and steaminess with a plot that pulls you in and reached into your heart in a very short amount of space. Using her words succinctly helps to speed things along in a manner that doesn't feel rushed and works really well for the story. This is something you should pick up for a quick read, just be careful where you pick it up.

Book Info:

 Published February 4th 2016 | Tule Publishing |
What happens on Valentine's Night, stays on Valentine's Night… That's the rule.
After a trip home to bury his father, US photographer in London Caleb Landry finds himself stranded in a Soho bar full of boozy women brooding his way through his least favourite night of the year.
But when college art teacher Rosie Smith tries out the cheesiest pick-up line ever on him, Cal becomes captivated by this good girl with a filthy mind – especially when he discovers she has a V-Day allergy of her own. So he dares her to one smokin' hot Valentine's night hook-up with no questions asked, satisfaction guaranteed…
But when Valentine's Night turns into the morning after, suddenly Rosie's asking questions she shouldn't, and putting Cal in danger of breaking his number one rule.