In Dark Promises (Dark #29) by Christine Feehan, Since becoming a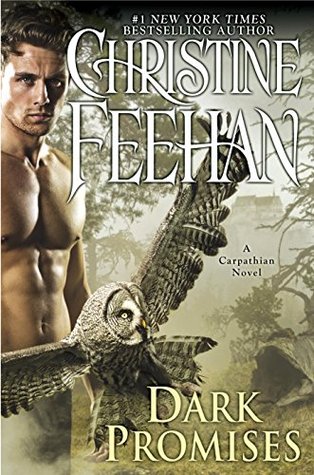 Carpathian, Gabrielle has continued living life as though she were human with a few exceptions. One thing she relies on is for her fiance, and fellow researcher, Gary to fight the big battles for them. Now that he's fully Carpathian with ties to the ancients, he seems to be fighting vampires more than helping her in the lab. But when they face a huge challenge to their relationship, Gabrielle and Gary may find they end up on different paths altogether.
"…Do you think I wouldn't risk everything for you? I'm fighting for us, Gary. I need to know I'm just as important to you as you are to me. I need you to fight for me."
When Trixie first arrived in the Carpathian Mountains, she thought the vampire hunting kit she found online would be her saving grace. But it turns out that her sharp mouth, quick mind and fierce protectiveness of her family is what drives her to triumph over evil. So when she encounters a dangerous man who understands her psychic gift, claiming they are lifemates, Trixie wants to laugh. Although with the way he makes her feel cherished and loved, she's not sure if she'll be able to leave the mountains after all.
"Lifemate. You have enough attitude for ten women."
"Exactly." She was more than pleased he saw that. That should send him screaming for the hills…
"I like attitude," he whispered, his mouth against her ear.
Dark Promises was a paranormal romance that balanced good and evil, darkness and light, fear and bravery, and even dominance vs submission. Yep…a little something for every type of reader.
'Once again he whispered the words into her mind, filling her with him. With his strength. With his need. He translated into her language and it was poetry. "Keeper of my heart and soul… Come to me, beloved," he repeated.'
This is going to be a difficult review to write without giving all of the surprises away but I'll try my best to leave out any spoilers. As you can gather from the book synopsis, Gabrielle and Gary were the main couple this time and boy did they have some changes to endure. Their path was altered completely and it meant that for the first time Gabrielle had to learn to stand up for herself and be more self-sufficient. I came to really like her character but was a little bit frustrated at first with her passive-aggressiveness. She did evolve into a stronger woman by the end, though, and it was interesting to watch her become more confident.
Gary was fully Carpathian and had the wisdom and blood of the ancients running through him, so he was a fierce warrior but still held some of his human qualities, like being gentle and thoughtful with Gabrielle. I can't say exactly what happened to Gary–no he didn't die!–but his path in life was greatly changed. It was bittersweet, that's for sure but there was a spark of hope at the end. And along the way, we met several of the ancients from the monastery in the Carpathian Mountains: Fane, Aleksei, Dragomir, Andor, among others. A few of them held key roles in the storyline and aided in the changes that took place.
The other character that was brought in was Trixie, Teagan's grandmother. (Teagan was a main character in book #28) I absolutely adored Trixie. She was spunky and had attitude galore but was a very caring person underneath all the bravado. I will let you know that she meets her lifemate in this story, but I can't say who. They were truly a perfect couple, with her lifemate having the temperament and sense of humor to put up with Trixie's sarcasm. Plus I have to say that the scenes where she digs out that vampire hunting kit she bought online just made me laugh so hard. It becomes a joke between some of the characters, adding a bit of comedy to the somewhat dark tone of the story.
Christine Feehan certainly knows how to write paranormals with crazy hot alpha men and Dark Promises gave us several examples. If you like your stories heavy on the steamy sexytime scenes and light on the gory fight/action scenes, this one is for you.
Book Info:

Publication: March 15th 2016 | by Berkley | Dark #29
Lovers challenge destiny and risk their lives in the new Carpathian novel by the #1 New York Times bestselling "queen of paranormal romance."*
Gabrielle has had enough of battles, of wars, of seeing Gary Jansen, the man she loves nearly lose his life when it isn't even his fight. Once he was a gentle and very human researcher. Now he's a fearless and lethal Carpathian warrior with the blood of an ancient lineage coursing through his veins—a man Gabrielle still needs and desires and dreams of with every breath she takes. All she wants is a life far away from the Carpathian mountains, far from vampires and the shadows cast by the crumbling monastery that hides so many terrible secrets. But Gabrielle soon learns that promises made in the dark can pierce the heart like a dagger.
And she isn't the only one in search of answers in the corners of the unknown….
Trixie Joanes has come to the Carpathian mountains in search of her wayward granddaughter, fearing that she has been lured there by something unspeakable. Instead, Trixie has stumbled into the path of a desperate man and a woman in love and on the run. And they're all fated for the lair of a mysterious ancient with revenge in his soul and the undying power to make bad dreams come true.
*J.R. Ward