Darkest Before Dawn (KGI #10) by Maya Banks starts off dark and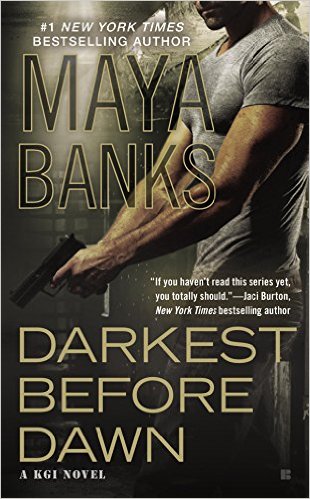 dangerous and keeps going that way. Hancock has been an intriguing mystery for the Maya Banks' KGI series so far, and this is his long awaited story. Hancock works a lot of dark ops, has a team he trusts, and has his mind focused on one goal, on one person. The person who is responsible for the death of his foster mother and a host of other horrible offences is who Hancock seeks to end. And he has finally found his way to do this. Twice before he has had chances to take this man out, and twice before he has given up those chances to save two single innocent people. This time he is going to complete his mission at any cost. Even if that cost is the innocent relief worker he's sent to find in the Middle East.
Honor is that relief worker. She narrowly escaped death after a bombing at the relief centre she worked at. Now she is on the run, trying to out smart the danger chasing her. When Hancock finds her, she assumes he is an American sent to rescue her…little does she know that his rescue plans involve a whole other world of evil, and it's not the rescue she was hoping for. As they run from one danger to the next, Honor finds out just what is in store for her. Anger, hurt, and fear fill her…but as Hancock explains things to her, she comes to believe her sacrifice is necessary. Necessary despite her growing feelings towards Hancock, her will to live, and her desire to follow her calling of helping others. Honor is not the only one experiencing unexpected and mixed emotions. Hancock finds himself feeling more for Honor than he thought he could for anyone else. She is slowly seeping into the walls he's created around himself. Will Hancock be able to do it? Will he and his team just hand over a woman they've come to like and respect, knowing what is in store for her all for the ultimate revenge?
Darkest Before Dawn was a bit long winded and difficult to hold my interest for the first two thirds of the book. The narrative is long at times with a lot of descriptions and explanations that at time made it hard to focus on the actual plot. For the last one third of the book the pace, action, suspense and tension really picked up. I found it much more enjoyable and interesting then, and was glad that I persevered.
Although this is Hancock's story, I didn't really feel like I got to know him as well as I hoped to. The focus is on his single minded need for revenge at the cost of all else. I would really have liked more background and personal information about him. Maya does give us some, but I was left feeling at a bit of a loss because I really wanted to know him better. I wanted to like him. I really could not understand him at all, and at times I wondered how he could feel good about himself, planning to sacrifice innocent people.
I liked watching Honor crack through Hancock's walls, she just seemed to find her way in there. I initially liked her, she was strong and admirable as she tried to find her way to safety. After being with Hancock and his team though and finding out their plans for her, she suddenly turns into an unbelievable martyr…willing to sacrifice herself for the greater good, to allow Hancock and his team to carry on with their plans for her.
The characters in Darkest Before Dawn are complex, and the journey they embark on is nerve wracking. I was interested to see where Maya would take us, how far things would go…what would be their ending? Despite my feelings towards Hancock and his team, Maya gives a really good example of a strong, loyal team in Darkest Before Dawn. I liked how when the KGI group finally makes an appearance, she demonstrates the ability strong people have to come together in a crisis despite their differences.
I felt a lot of emotions while reading Darkest Before Dawn…hope, annoyance, frustration and heart ache, and this is what makes a good book. No matter whether the feelings are good or bad, Maya with her writing manages to evoke them from me.
Because Hancock is so separate from the KGI group, always on the periphery, I think that Darkest Before Dawn can be read as a stand alone. Strong on suspense and laced with tension, I'd recommend Darkest Before Dawn to romantic suspense readers.
Book Info:

October 27th 2015 by Penguin Publishing Group | KGI #10 |
The Kelly Group International (KGI): A super-elite, top secret, family-run business.
Qualifications: High intelligence, rock-hard body, military background.
Mission: Hostage/kidnap victim recovery. Intelligence gathering. Handling jobs the U.S. government can't…
The enigmatic Hancock has been both opponent and ally to the KGI teams for as long as they've known him. Always working a deep game, Hancock's true allegiance has never been apparent, but one thing is for certain—he never lets anything get in the way of duty.
But now, his absolute belief in the primacy of his ultimate goal is challenged by a captive he's been ordered to guard, no matter how much she suffers in her prison. She's the only woman who's ever managed to penetrate the rigid walls surrounding his icy heart, but will he allow his perplexing feelings for the beautiful victim to destroy a mission he's spent years working to complete or will he be forced to sacrifice her for "the greater good."