In Dating You/Hating You by Christina Lauren, Hollywood talent agent Evelyn "Evie" Abbey is married to her job and is totally okay with that. In her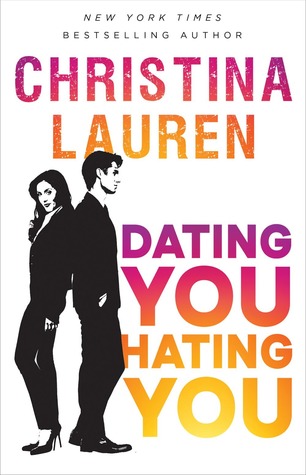 early thirties, she's been watching her friends pair off and never really thought about something serious. Until she meets Carter Aaron. He's the perfect mix of sexy and serious, charming and self-deprecating, but unfortunately he's a talent agent as well, which could complicate things in their line of work. Carter is of the same mind, knowing he really wants to give things a go with beautiful Evie but worried that their paths might cross professionally and that they would have limited time together with their long, hectic workdays.
"You look like you're cycling through a lot of things right now," he says.
"Like what?"
He shrugs and steps a little closer. "Like whether you should kiss me or punch me."
The bald honesty of this makes my chest squeeze so tight, I have a moment of breathlessness. "It's a daily struggle."
After a great first date, both Evie and Carter are on cloud nine. But they soon find out that the companies they work for will be merging, leaving them in a race to see who will keep their job. What started out as a growing flirtation and the promise of a relationship quickly morphs into something competitive, filled with bits of jealousy and animosity. Office hi-jinks ensue, feelings get stepped on, yet chemistry still flares between them. And it will be anyone's guess who will come out the victor in the end.
"Simply put, Evelyn Abbey is my former almost-girlfriend-turned-archnemesis-turned-tentative-ally whom I would now very much like to permanently seduce."
A new standalone by amazing author duo Christina Lauren, Dating You/Hating You took office romance to new comical heights with their adorkable pairing of Carter and Evie, two talent agents who went from falling in lust to finding themselves in a battle for the same job.
'I'm not entirely sure what this feeling is, because I've never had it before…but I think it's unmitigated rage. I think my brain has just declared war on Carter Aaron.'
Even before I begin reading a book by Christina Lauren I know that I will be completely charmed by the characters and the crazy predicaments they get into. And with Dating You/Hating You, boy were our fledgling lovebirds in a messy situation. I loved the connection Evie and Carter had together and thought they were off to a great start at the beginning of the book with their romance. They were smart, super cute together, and both had that geek-chic thing going on. But the merger between the companies they worked for meant Carter and Evie were vying for the same job. And that's where we watched them devolve from having romantic feelings to being competitive and pulling some hilarious pranks.
Now I've seen this story being compared to The Hating Game by Sally Thorne quite a bit and I understand why, given that it's about employees being pitted against each other for the same job position. However this book to me started off on a fun note and held onto that comedic edge throughout everything that happened, whereas The Hating Game had a bit more animosity to it. (Although I adored that book as well!) The progression Evie and Carter went through was honestly such a blast to follow. Christina Lauren has such a wonderful way of describing emotions and they use the perfect dialogue to really get the characters' thoughts across in a modern, hip way. The text messages between Carter and Evie particularly had me chuckling over and over and was a great addition to enhance the story.
Highly entertaining, Dating You/Hating You will have you feeling all the feels and wishing for more time with these characters. I know this is a standalone but I have a feeling that fans are going to be asking (read: pleading) for stories about Evie and Carter's fantastic friends as well. Just saying…
Book Info:

Publication: Published June 6th 2017 | Gallery Books |
All's fair in love and work. The first standalone romance by New York Times and #1 international bestselling author Christina Lauren (Beautiful Bastard) is a sexy, compulsively readable romantic comedy that dives headlong into the thrill and doubt of modern love.
Despite the odds against them from an embarrassing meet-awkward at a mutual friend's Halloween party, Carter and Evie immediately hit it off. Even the realization that they're both high-powered agents at competing firms in Hollywood isn't enough to squash the fire.
But when their two agencies merge—causing the pair to vie for the same position—all bets are off. What could have been a beautiful, blossoming romance turns into an all-out war of sabotage. Carter and Evie are both thirtysomething professionals—so why can't they act like it?
Can Carter stop trying to please everyone and see how their mutual boss is really playing the game? Can Evie put aside her competitive nature long enough to figure out what she really wants in life? Can their actor clients just be something close to human? Whether these two Hollywood love/hatebirds get the storybook Hollywood ending or just a dramedy of epic proportions, you will get to enjoy Christina Lauren's heartfelt, raucous, and hilarious romance style at its finest.