In Deadly Fall (Devil's Shroud #6) by Elle James, Dix Reeves never expected her first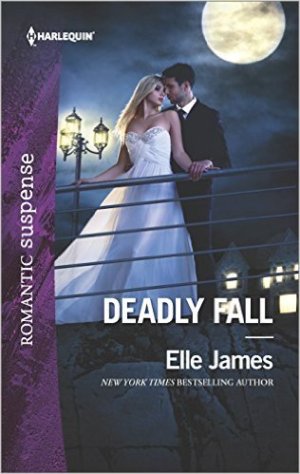 assignment with SOS (Stealth Operations Specialists) to be guarding billionaire Andrew Stratford and his daughter, but she's determined to do everything in her power to keep them safe. However, it isn't easy to keep things strictly professional between her and Andrew. Is it possible she can mix business with pleasure while keeping him and his daughter safe, or will the distraction the handsome Andrew provides ruin her first chance to prove her skills to her new boss?
"Go ahead. Try to take me down."
Uh, Dix, I'm not so sure that's a good idea," Nova said. "He's the client."
Andrew Stratford raised a hand. "It's okay. I don't think she's the right person for the job. If she can prove she is, I might reconsider." He gave her a narrow-eyed, assessing glance. "I don't want to hurt you."
She snorted. "Oh, sweetheart, you're not going to hurt me." I might hurt you, she thought, but kept the comment from coming out. "Aren't you afraid I'll wrinkle your suit?"
Whenever I've read a book by Elle James, I've really enjoyed them, and this one was no different. The way this story opened was really intense with what happens to Andrew and the reason he needs to hire a bodyguard. However, it was the moment that Andrew met Dix that this story became riveting, fast-paced and a moment that had me flipping the pages wanting to discover more about the hero and heroine. Because both have had rough pasts that have left them wary of the opposite sex and uncertain of letting people get close.
As for the dialogue, it was a nice mix of intense and playful, and the moment Andrew and Dix meet illustrates what great chemistry they have. Dix isn't afraid to show Andrew that she has what it takes to protect him and his daughter, and really proves herself capable by impressing him with her skills. Moreover, the moment the hero and heroine met absolutely made me laugh, because she isn't about to let another man underestimate her like so many have done in the past. Then there's the reason for someone causing trouble for the Stratford family that added a good dose of suspense to this story. Who is causing trouble for Andrew? Why are they trying to hurt him?
Dix was a compelling heroine, and is a woman that has been through so much. SOS as well as Andrew and his daughter are a godsend for her, because she's military trained and has just retired from her mixed martial arts career after an incident that left her struggling to deal with the harrowing outcome. In a way, her new job and her growing relationship with Andrew save her from a lifetime of loneliness, which she had resigned herself to. While the hero, he's a recluse determined to hide away from others because of what happened to him when he saved his daughter from her psychotic mother. However, it's his family history that I found really interesting, and which is the reason for the danger he and his daughter find themselves in. Will they find what the people looking to hurt him are after?
"I never would have thought a former Ranger and MMA fighter would wear lace panties."
Dix chuckled. "I might be tough on the outside, but I'm all female on the inside." She held out her hand. "I'm not asking you to fight your urges. I'm finding I have a few of my own."
"I won't do anything you don't want me to," he said, pulling her to stand between his legs again.
"Just take it easy on me. I haven't done this in a long time."
Overall, this was a really good book that provided a strong romance between the main characters, which spilled over onto the pages in passionate sex scenes. The way this story ended was intense because of what happened to one of the main characters. However, it was the decision Dix made that had me smiling, because she needed Andrew and his daughter in her life to prove she can be happy again after everything that's happened to her in the past. I would recommend Deadly Fall, if you enjoy romantic suspense.

Book Info:

Publication: January 3rd, 2017 | Harlequin Romantic Suspense | Devil's Shroud #6
In a Gothic mansion on a windy coast, former soldier Dixie Reeves and her client, billionaire Andrew Stratford, are in grave danger. The single dad has hired her to help him protect his daughter from a mysterious threat. As their enemy closes in, even tough-as-nails Dixie has to hold her nerve…and keep her guard up to stop herself from falling for Andrew and his adorable little girl. The long nights pass, and Dixie and her handsome boss can't deny they're barreling toward the kind of love that changes lives. That is, if they can somehow keep their instant family safe from the danger at the door!