Deal Breaker by Marnie St. Clair: When Ellen's new boss turns out to be her one night stand from a few months earlier, she doesn't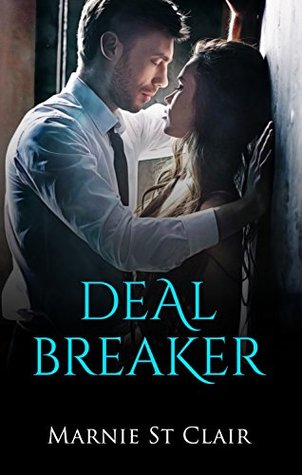 know what to do. All she wants is to make partner at her consulting firm, and she can't let their past get in the way. Not when she's running from her own damaged past as the daughter of the town mess.
Alex can't get his mind off Ellen. As his best employee he knows he can't ruin their working relationship, but when they join forces on an important project the chemistry they have burns even brighter.
Alex can't have a relationship. Not when he's the caretaker of an old friend. And Ellen has no desire for permanence, not when her life is her work. But what happens when they find a door to happiness open to them that they never knew existed, or even wanted to accept.
I wasn't so sure I'd like this story, but I ended up loving it. Ellen is bright, intelligent, and adorable. Alex is strong, sexy, and deeply caring. They're truly perfect together, and I loved every moment of them together.
One aspect I really appreciated was the caretaker relationship Alex had. It added an interesting element to an otherwise not so interesting office romance trope. It also showed a depth to Alex that I adored, and how Ellen fit in was just perfect.
Their romance was well-developed and so were the characters. They had strong growth, and I even loved their separation and the pain they caused each other. It made it so worth it. For those who love the sexy boss and employee romance with a twist, I highly recommend Deal Breaker.

Book Info:
Publication: September 1, 2017 | Harlequin Escape

|
From one-night-stand to new boss…
Ambitious management consultant Ellen Kennedy is going places. But when last year's one-night-stand shows up in her office as her new manager, it threatens everything she's worked so hard for. Even worse, she's not quite sure that one night was enough.
Alex Broadhurst has private reasons for moving to Melbourne, and he has no intention of sharing them with anyone, including the woman he never forgot. But business and pleasure can't mix, not ever, no matter the temptation.
Workplace romances always end in disaster, so Ellen and Alex strike a deal: one night in the past won't affect their present or influence their future. But sometimes even the best deals are made to be broken…