Deep Into Trouble by Dawn Ryder is fast-paced, action packed, and overall, an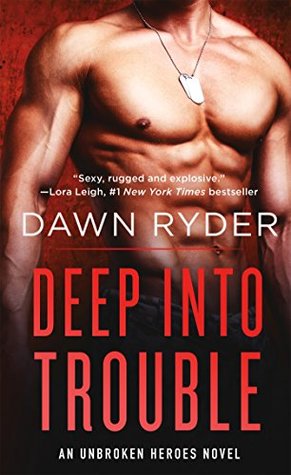 entertaining read. I'm a big fan of stories that use New Orleans as the back drop. It's a fun city to read about and Saxon and Ginger definitely know to get lost in the Big Easy.
Ginger Boyce is a librarian who finds herself in a bit of pickle. She attends a conference in New Orleans and decides to have some fun, only, she gets more than she bargained for. As in, witnessing a murder and bad guys following her. But, Special Agent Saxon finds her first and together they try to out maneuver the bad guys.
If Saxon finds Kitten, she will lead him her boss and that's exactly what he's after. He has personal reasons for tracking down the man who calls himself the "Raven" and they revolve around a former Special Agent who went rogue. But instead of finding Kitten, he finds a woman who clearly doesn't belong and has now witnessed a murder. Saxon is immediately attracted to Ginger and will do anything to make sure stays alive.
Ginger is one tough librarian. She doesn't freak out and listens to Saxon, while trying to stay alive. She's also very funny and even though she's from a small town, that doesn't mean she can't keep up. Saxon is different from the men Ginger knows back home. He eludes danger and strength. It's definitely bad timing, but their attraction for each other is overwhelming. But what happens when emotions get tangled, will they make it out in one piece?
"There isn't anything in my world for you except danger. You believe in happy-ever-afters, honey. Those don't exist in my world."
This is the third book in the Unbroken Heroes series, but can certainly be read as a standalone. I have not read the previous two books, so I can't comment on the overall series, but Deep Intro Trouble was a fun read with many suspenseful moments and plenty of bad guys to keep you intrigued.

Book Info:

Publication: March 7th 2017 | St. Martin's Paperbacks | Unbroken Heroes #3
Saxon Hale lives for the hunt—taking down the bad guys, stopping them dead in their tracks. His latest mission has him in New Orleans, where people go for the party that never ends. But fun is the last thing on Saxon's mind now that he's a breath away from closing in on a vicious overlord known only as the Raven. Until an innocent young woman unknowingly enters the very deadly game…
Ginger Boyce is a librarian who's growing tired of being so buttoned-up on the job, and when she attends a conference in the Big Easy, she decides to taste the wild side of life. But when her dance with darkness becomes lethal, she's in dire need of protection—and ends up in the embrace of a man who radiates danger and desire. Soon Saxon finds himself Ginger's shield against an enemy whose power they haven't yet begun to face. But will he be able to keep his mind on his mission while the very woman under his care drives him beyond distraction?