Defending Hayden by L.P. Dover: Derek is happy to be back since that means returning to all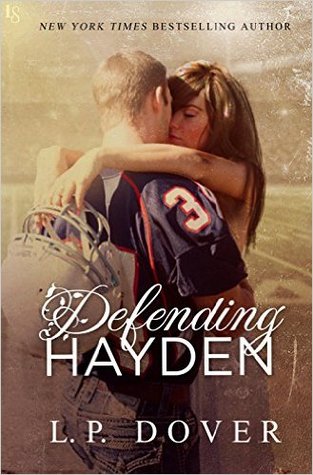 the distractions that the upcoming NFL preseason will provide. The rigor of practice, training, and games will also keep him plenty busy as he's still grieving thee loss of his girlfriend in an accident.
Hayden loves almost everything about being a veterinarian. She truly cares about all of her patients and their owners.She tends to work long hours and ends her work day long after everyone else has already gone home. Which turns out to be a very good thing when leaving late one night means that she's in the right place at the right time to rescue a dog and run into Derek again.
I burst out laughing. "You are too much. When I first met you, you didn't look like you'd have a sense of humor. You definitely had me fooled."
He winked. "Just wait until you're around me more."
Derek and Hayden form an unlikely friendship. Derek loves that Hayden didn't initially know who he was, knows little about football, and has no desire for the media spotlight. Hayden helps Derek move on from the accident and learn to laugh again. He helps her to see there is more to life than work. Both are still struggling with pain from previous relationships and neither are in the market to change their single status. The only problem is that they are undeniably attracted to each other and being friends isn't enough.
Sighing, she looked up at the sky and then back into my eyes. "I'll come to your game. Bet if you don't win, I won't ever go to another one."
"Then I guess we'll just have to win."
Defending Hayden is an entertaining sports romance. While there is an interesting story and characters, the overall pace seems really quick. There could have been additional development to build Derek and Hayden's relationship and other key events. L. P. Dover included good banter and minimal angst. Ms. Dover created engaging characters, especially Derek's teammates. Fans of Tracy Solheim and Louis Bay will enjoy Defending Hayden.

Book Info:

Publication: June 28th 2016 | Loveswept | Second Chances #7
The Carolina Cougars keep fighting for love as the Second Chances series from bestselling author L. P. Dover continues! In Defending Hayden, a damaged football star teams up with the only woman who can take the pain away.
No one's tougher than Carolina Cougars linebacker Derek McLaughlin. But when a fatal car accident claims the life of his girlfriend, Derek finds himself caught in a destructive spiral of drugs, alcohol, and meaningless sex. But not even a string of one-night stands can ease the hurt. Football is all he has left. Then fate leads him back to the scene of the crash, and into the arms of a kind, gorgeous woman who sees past his façade to the man he once was . . . and can be again.
When a chance roadside encounter brings Derek into her life, veterinarian Hayden Hunter isn't fooled by his bad attitude: All bark and no bite, he's hiding a wounded heart beneath that gruff demeanor. And Hayden wants to be the one to kiss it all better. Soon they both find that a dose of passion is potent medicine. But when a hidden enemy lashes out at Hayden, Derek steps up to do what he does best: put his body on the line in the name of love.