Defying the Odds by Kele Moon is the first book in the Battered Hearts series. This is the second book I have read that focuses on the Mixed Martial Arts (MMA) community and it is enlightening as well as a little gory. Kele Moon is a talented storyteller, able to weave an interesting plot with hot, steamy eroticism.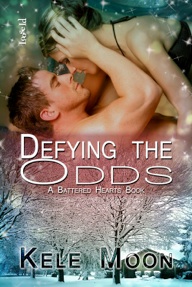 Melody Dylan is on the run from her abusive ex-husband Justin. She temporarily settles down in the small town of Garnet and with the help of kind strangers, secures a waitressing job and a small cottage to live in. Melody is kind and has the uncanny ability to spread sunshine all around her. Once she is back on her feet both financially and emotionally, she plans to return the good will she was fortunate enough to receive in her time of need.
One chilly Thanksgiving evening, Melody buys one of her customers' a slice of pumpkin pie. Unbeknownst to her, the customer is the famous heavyweight, Ultimate Fighting Champion, Clay "Powerhouse" Powers. Melody thought he just looked lonely and some pie would cheer him up. Their initial interaction is short and sweet, but they both feel something that ends up leading to more.
Clay is the big, strong, silent type. He has no acknowledged family. He grew up in Garnet, with his two friends, siblings Wyatt and Jules Conner. Garnet is a MMA hub and both Wyatt and Jules are fighters as well. Wyatt is the town sheriff and Jules is the town lawyer. Not only are they friends, but they live together and co-own the MMA center in town. Clay loves fighting, but despises the media attention that comes along with it. He counts on Wyatt and Jules for his sanity and training. They are his family.
Clay eats all of his meals in the diner that employs Melody. So naturally, they slowly get to know each other. Of course Melody is a little weary of fighters, since she has experienced her share of bruising. But Clay is gentle and loving. They begin to fall for each other. Melody and Clay balance each other out.
Their love evolves quickly and emotionally. Revelations crescendo at the UFC in Las Vegas. Melody's life is saved by Clay and his opponent Romeo. Although the scene is somewhat predictable, it is well written and action packed.
Each moment of passion is hotter than the next and the safety net that slowly encompasses Melody is heart warming. Melody learns to trust men again and Clay is able to be in a relationship that has nothing to do with his career.
If you enjoy a good alpha male and alpha female storyline, get this book.
Book Info
Publisher: Loose Id, LLC (June 14, 2012)
A woman running from an abusive past. A famous UFC heavyweight fighter who relies on his fists for a living. A slice of pie on Thanksgiving brings these two unlikely lovers together.
The stranger ends up being Clay Powers, a famous UFC heavyweight fighter. Clay's large build and dangerous fists have always intimidated. People in his hometown keep their distance and Clay is fine with that. Everything changes when a new waitress at the local diner buys him a piece of pie on Thanksgiving. Touched by the gesture when it's obvious she can barely afford to survive, her warm smile and lush body churn up powerful feelings that leave Clay wanting more from her than pie.
Melody is running from her past and the small, country town of Garnet is the perfect hiding place. With an ex-husband after her and scars from her abusive marriage etched deep, the last thing she expects is to fall for a man who makes a living with his fists, but she can't resist Clay or the tender connection they share.