Denial by Lisa Renee Jones is book one in the Careless Whisper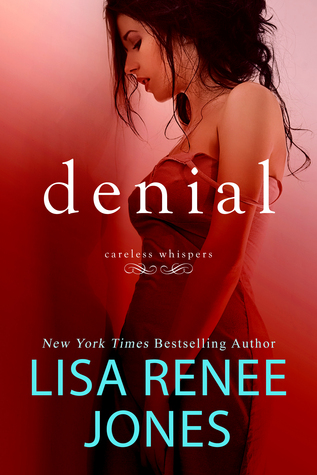 series and ends with a powerful cliffhanger. When I started this book, I had no idea it was part of a three book series, but it's still a story that I don't regret reading. The only thing I regret is the timing since book two doesn't release until May. This is the first book I've read from this author, so I've never read The Inside Out Series, but for those of you who have, this book revolves around Ella.
Ella has no memory whatsoever. She wakes up in a hospital in Italy and doesn't know how she got there or what her name is. All she knows is that the man who saved her in an alley wants answers from her and is the only person she can trust at the moment. Kayden is possessive of Ella and wants to keep her safe while she regains her memory. The only problem is that Kayden knows more than he's letting on and has his own set of secrets and sooner or later Ella starts to question his motives.
"There are a lot of things I want to do you, Ella, but I promise you, killing you isn't one of them."
Kayden is intense, passionate, and mysterious. He's also very hard to figure out but I'm sure the next book in the series will give us more answers into his character. The plot is exciting, the main characters and the secondary characters are well-developed and full of intrigue, and one thing this book is not, is dull!
Denial is unlike any other book I've read before and if you are looking for a book to keep you on your toes that is full of suspense, intrigue and romance, look no further. I can't wait for the next book to be released!
Book Info:

Publication: November 24th, 2015 | Gallery Books | Careless Whispers #1
Book one in the CARELESS WHISPERS series. This is a standalone spin-off of the INSIDE OUT series (soon to be a TV show) that follows Ella Ferguson, Sara McMillan's best friend.
Ella Ferguson awakes alone in Italy, unsure of who she is, and a gorgeous man has claimed her as his own. He's tall, dark, and sexy, with money and power, the kind of man who makes a girl want to be possessed. And he does possess her, whispering wicked wonderful promises to her, stealing her trust and her heart. Soon though, the past finds her, yanking her from a cocoon of passion and safety. Everything is not how it seems. The truth will shatter her world, but it can set her free, if it doesn't destroy her first.