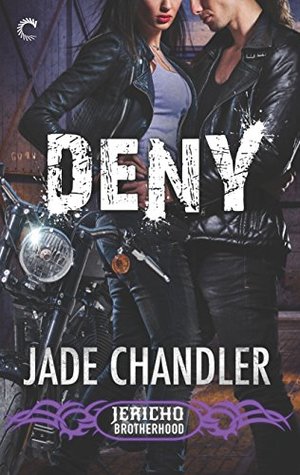 Deny (Jericho Brotherhood #3) by Jade Chandler is an amazing MC Series that keeps the reader on the edge of their seats. It has suspense, it has hard core bikers, everything a great MC book should have. This is the story of Isaac Jericho and Marr.
Isaac Jericho had a very hard childhood. A father who beat him and his mother, or was it really his father? Turns out that Isaac's mom was not sure which of the MC brothers really fathered Isaac. So once Isaac was old enough, he become a member of the MC, and finally, finally, he has now run his father out of the MC and has now taken over. Wanting to clean up the club, he has to get rid of the other man that may be his father. And when the women at the night club start being beaten, Jericho has to step back into the life that he swore he would never touch again, the life of a Dom, and the one woman he wants to dominate more than anything, Mistress Marr.
Marr is the Domme at the club, and she is out for blood. No one hurts her girls, and she will fight to the end to keep them safe, even if that means that she has to go toe to toe with the MC President Jericho. But she wants more that to fight him, she wants to dominate him. When Jericho asked Marr to help him figure out what was going on and who was responsible for hurting the girls, Marr knew that this was her opening to get Jericho. But when Jericho turns the tables on Marr and makes her is Old Lady, she knows that she is trapped, and more than that, she is in love with him.
When Jericho starts feeling stronger for Marr that is good for her, he sends her away thinking she will be safe. But when things go sideways and Marr ends up missing, Jericho will move heaven and earth to save the woman that has come to mean more to him than life itself.
What I really enjoyed about Jericho and Marr is that they had this push pull relationship, but in a way they both respected that about each other. They were both dominate, but neither tried to take the power for the other, they respected each other. With all that Jericho went through, you can understand why he is the way he is. Why he resisted Marr and his feelings. Amazing story and I hope for more.

Book Info:

Published December 5th 2016 | Harlequin | Jericho Brotherhood #3
In the third installment of Jade Chandler's down-and-dirty Jericho Brotherhood motorcycle club series, two hard cases deny the beyond-carnal bond that forms between them…until it's almost too late
When we f*ck I forget my name, but I never planned to love her.
I never thought I'd make her my old lady.
From our very first scene, we've been fighting for control. She's the one woman who can bring me to my knees, make me beg. Make me feel.
Now I need to give it all up to save her.
Fury is my weapon when I confront the enemies bold enough to lay hands on my gorgeous Marr. Raw rage is what's fueling my fight against the ones who want to end everything the Brotherhood stands for.
We're on the brink of war and I will burn this club to the ground before I let them hurt my woman again.