In Devil in Tartan (Highland Grooms #4) by Julia London, Things have not been going well for quite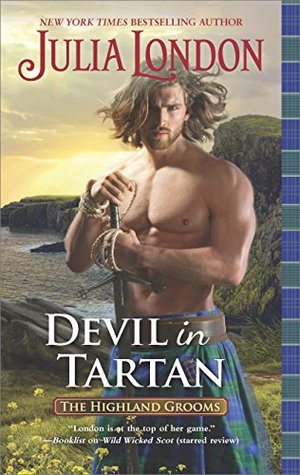 some time for Lottie Livingstone's clan on the isle of Lismore. Unable to pay their rent or find a way to make money on the rocky island, their leader–her father–begins illegally distilling whisky. But their attempt to sell it in Denmark goes awry when the Livingstone's small ship encounters some trouble. When they begin taking on water and are in need of a physician for her ailing father, Lottie and her clan come up with a plan to temporarily commandeer the ship who comes to their aid. But with every step they take to make it to Denmark and get the money they so desperately need, they are thrown two steps backward. And with a gorgeous but extremely angry sea captain mentally measuring her neck for a noose, Lottie isn't sure if she and her family will make it out of the situation alive.
'He wore a plaid, which had been banned by the king, with a coat and waistcoat and ghillie brogues. He was the picture of strength and virility, and Lottie's blood began to race. He was a devil in tartan, and in spite of herself, she smiled broadly, a wee bit like a mad woman.'
Captain Aulay Mackenzie is a man with something to prove. This particular voyage is his last chance to show his family that he is capable of earning his place, and that the Mackenzies have the tenacity to succeed in any circumstance. So what a blow to his pride it is when his act of goodwill, in helping a ship in distress, leads to himself and his crew being taken over by a hapless group led by none other than a bonny lass. Not one to let things go, Aulay is already preparing to bring Lottie and her family to justice once he frees himself. But the blond beauty somehow worms her way into his mind and eventually his heart, leaving him to wonder how to exact revenge for his family's lost business without harming Lottie. It's a tricky situation to say the least. Thankfully Aulay and the rest of the Mackenzies are known for thinking on their feet.
The captain's gaze was sultry. "Aye, but you're bonny when you smile, Lottie Livingstone, that you are."
…"Such flattery, Captain Mackenzie. Is it possible you've warmed to your captor?"
His eyes sparkled with amusement. "Warmed to her, aye. But no' forgiven her."
"I'd be disappointed if you had."
Devil in Tartan was an exciting tale of adventure, passion, and family drama on the high seas as only Julia London can tell it. We had a lady pirate (sort of), a sea captain-slash-artist, and lots of mayhem that kept the plot moving at a speedy pace.
'It was insanity to admire her for being so bloody audacious, for making a laughingstock of him, but that's precisely what he did. Had he ever known a woman, or a man, for that matter, who could best him so?'
I'm actually stuck between a 3.5 and a 4 star rating on this one. I loved the action and the rapid turns the storyline took as well as the overall flow of the writing. But some of the choices our heroine made, well, they honestly annoyed me. Not to say I didn't like Lottie. She was clever and loyal to her dear family, however there were several times where she relied on her looks but then complained about being treated like a pretty face. It was obvious that Lottie was in over her head and in a no-win situation. Her efforts were at times comical and other times had me shaking my head. I just unfortunately didn't always connect with her, whether it was her thoughts or what she ultimately chose to do in each situation. But I did feel like her attraction to Aulay was genuine and certainly her love for her family and their home on Lismore Island was undoubtedly true.
Now, Aulay was a pretty solid character. He did have a bit of the whole "middle child syndrome" going on but he was a nice mix of alpha guy and dreamy artist. He was physically and mentally strong, up for the challenge of being a captain at sea–where he felt most at home. But Aulay was also a very thoughtful man who was a talented painter as well. I kind of felt like he had the most personal growth over this journey and was the steadiest in character and judgement. I haven't had a chance to read the previous three books in this series so I loved getting my first glimpse of his siblings and his parents. They had a complex dynamic that created some tension when Aulay, Lottie and the rest of the crew visited his home at one point. I do have to say the secondary characters were also quite well done. Lottie's brothers, especially, were rather endearing in their own way, as was Aulay's sister Catriona.
An entire clan's future was held in the balance in this story of unexpected love and great loss. If you're a fan of historical romances with plenty of action and plot twists, then I think Devil in Tartan may just be the book for you.

Book Info:

Publication: February 20th 2018 | HQN Books | Highland Grooms #4
Peril and passion on enemy seas…
Lottie Livingstone bears the weight of an island on her shoulders. Under threat of losing their home, she and her clan take to the seas to sell a shipload of illegal whiskey. When an attack leaves them vulnerable, she transforms from a maiden daughter to a clever warrior. For survival, she orchestrates the siege of a rival's ship and now holds the devilish Scottish captain Aulay Mackenzie under her command.
Tied, captive and forced to watch a stunning siren commandeer the Mackenzie ship, Aulay burns with the desire to seize control—of the ship and Lottie. He has resigned himself to a life of solitude on the open seas, but her beauty tantalizes him like nothing has before. As authorities and enemies close in, he is torn between surrendering her to justice and defending her from assailants. He'll lose her forever, unless he's willing to sacrifice the unimaginable…