Devil's Own is the third book in Megan Crane's The Devil's Keepers, and I have loved this entire series about the sexy, outlaw motorcycle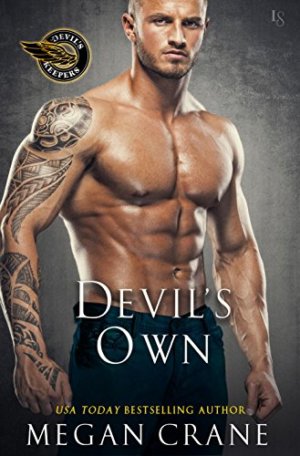 club, Devil's Keepers, in hot, muggy LaGrange, Louisiana. All three books feature hot alpha-men who meet their match—and the loves of their lives—and I can't get enough of these dirty-talking bikers. (Be warned that your eReader might start steaming when you read these books.)
Ryan "Chaser" Frey is the enforcer for the Devil's Keepers, which means he is the most dangerous and intimidating man among very dangerous and intimidating men. Everyone is scared of him, and they should be, because his job requires him to be frightening. But not quite everyone in LaGrange is afraid of Chaser…
His sixteen-year old daughter's prim and pint-sized teacher, Lara Ashburn, stands up to him when no one else ever does. She calls him repeatedly to demand a meeting to discuss his daughter's recent concerning behavior, and he finally shows up at school angry and defensive, but she is not afraid and doesn't give an inch. They go toe to toe, and the sparks that fly could light up entire the state of Louisiana.
Chaser is, frankly, dumbfounded by Lara, and he hates the feeling but he is also thrilled by it. He's intrigued by her, although he's never been into "good girls" or wanted anything more than a one night stand. He cannot deny that she revs him up like no one else ever has, and he is like a moth to a flame. Their chemistry is electric, and I mean out-of-this-world-jump-off-the-pages-and-burn-you electric, and there is no resisting the force that is drawing them together.
While the sex might be amazing, both Chaser and Lara are caught off guard when feelings and emotions start to come into play in their love/hate dynamic, and they are both uncomfortable and unsure where things might lead. Chaser never expected to find a woman like Lara, who could make him think about settling down, and Lara never imagined she might be willing to live the outlaw motorcycle club lifestyle.
Devil's Own is delicious escapism, and I enjoyed every minute spent with Chaser and Lara. They kept me on the edge of my seat waiting to find out where their fiery dynamic would lead them next. I love all three of these scorching-hot, enthralling, dark and gritty romances that deliver satisfying and sweet happy-ever-afters.

Book Info:

Publication: 5/16/17 | Loveswept | The Devil's Keepers #3
Lara Ashburn hates bikers. She watched a motorcycle club destroy her hometown, bringing her brother down with it. That's a life she put far in her rearview. So the last person she wants to see walking into her classroom is the top enforcer of the Devil's Keepers. Big, mean, and gorgeous, all tattoos and leather, Chaser is everything Lara should avoid. Yet the insane chemistry sparking between them tempts her to break all the rules.
Ryan "Chaser" Frey has his hands full with a teen daughter in need of tough love, and he doesn't have time for prissy teachers who want to tell him how to raise his kid. But Chaser never could resist a chick who gives as good as she gets. Lara is sexy as hell, and she's not afraid of him. Plus, her links to a California club could provide the Devils with leverage against their enemies. But that would mean mixing business with pleasure—and risking the one woman Chaser can't afford to lose.