In Dictatorship of the Dress (Much "I Do" About Nothing #1) by Jessica Topper, comic artist Laney is the dress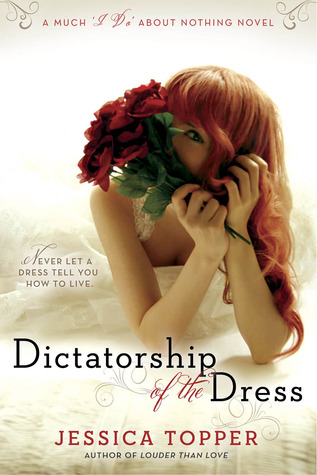 bearer for her mother's wedding dress… It's her job to get the dress safely from New York to Hawaii for her mother's wedding. Laney has never felt that she could please her mother, and feels this is yet another task her mother has given her with low hopes. Laney herself has loved and lost. She's still hurting from that and her perceived lack of support from her mother. Now she is heading to her mother's wedding.
When the wedding dress earns her an upgrade to first class though, Laney takes full advantage. Unexpectedly though, her seat mate, Noah, who she notices is a super tech geek, is mistaken for her groom. Noah is actually on his way to Vegas for his own bachelor party unbeknown to Laney…but next thing they are suddenly playing along with everyone's assumptions.
When a storm finds them both delayed with few places to go, they suddenly find themselves spending a lot of time together. As Laney deals with her mother long distance and protects the dress at all costs, she finds herself more attracted to Noah than she expected to be. Noah notices things about Laney he has no business noticing as a groom to be…
As they spend more time together, they find themselves telling each other things they would never tell anyone else. Laney comes clean, but Noah takes his time doing that. Noah is in a hard place…not happy, does not seem to be in love, and his fiance's father is his boss. Will he go through with a wedding he feels like an outsider in, especially after knowing how good he can feel with someone else? Will Laney get to Hawaii with her mother's dress and her pride intact?
Dictatorship of The Dress starts off all about the wedding dress, but evolves quickly into so much more. Taking place over only a couple of days and written from dual POV's, Jessica lets us really get to know both of the main characters. Laney is a little lost, and there are a lot of misunderstanding in her life, especially in her relationship with her mother. I liked the flashbacks Jessica writes in of Laney's previous relationship. This gives a solid background of Laney's past even if I still never really understood that relationship. Noah is a soft ware designer, and his personal and professional life are a lot uncertain for him. I really, really found myself hoping he'd find some sense of self fast and become more secure in himself. Together I liked the connection they established even if it was very fast, under unusual circumstances. Their interactions are at times entertaining and as times as if they've known each other forever. Both of them need to grow and stand up for themselves, giving them more in common than they think. Laney and Noah's characters do grow a lot in 48 hours, like they were both ready, they just needed a little push.
Letting go of the past is the only way they'll find out if they can have in each other is meant to be…
The main secondary characters in Dictatorship of The Dress are Laney's best friend and her mother who we 'hear' a lot from over the phone, then meet at the end. I liked how Jessica worked in family dynamics to the plot of this story, making it about more than one relationship. She brings everything together in a fun way and leaves you feeling hopeful for love and happily ever afters.
Well paced and easy to read, I'd recommend Dictatorship of The Dress to romance and chick lit readers.
Book Info:

Published January 6th 2015 by Berkley Trade |  (Much "I Do" About Nothing #1)
From Jessica Topper, author of the "beautiful and engaging" (Open Book Society) debut novel Louder than Love, comes the story of second chances, missed flights, and a woman ruled by her mother's wedding dress.
As the dress-bearer for her mother's wedding, comic book artist Laney Hudson has a lot more baggage than the bulky garment bag she's lugging from New York to Hawaii. Laney is determined to prove she's capable of doing something right, but running chores for her mom's fairytale nuptials is proving to be a painfully constant reminder of her own lost love.
So when she's mistaken for the bride and bumped up to first class, Laney figures some stress-free luxury is worth a harmless white lie. Until the flight crew thinks that the man sitting next to her is Laney's groom, and her little fib turns into a hot mess.
The last thing Noah Ridgewood needs is some dress-obsessed diva landing in his first-class row. En route to his Vegas bachelor party, the straight-laced software designer knows his cold feet have nothing to do with the winter weather.
When a severe storm leaves them grounded in Chicago and they find themselves booked into the last available honeymoon suite, Laney and her in-flight neighbor have little choice but to get better acquainted. Now, as her bridal mission hangs in the balance, perhaps the thing Laney gets right is a second chance at love.