Dirty Boxing by Harper St. George, Tara Wyatt: Jules is ready to take on a new challenge of rescuing the marketing campaign for her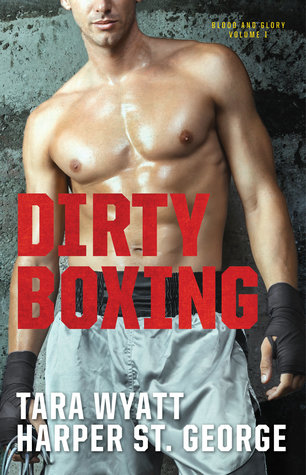 father. She didn't have an ideal childhood by any means, so this is also a chance to build a relationship with her dad who was focused more on his career than her. She definitely has her work cut out for her with more MMA fights being added, new fighters, and a championship just months away. Jules is smart, dedicated, creative, and convinced that love, commitment, and marriage aren't for her.
Nick is ready to take the next step in his career. He is the champion in another MMA league and decided to change leagues and move after being heavily recruited by Jules' father. Leaving Chicago wasn't easy as he has a pretty tight knit family, but moving to Las Vegas should boost his career. Nick is sexy, charming, passionate, and a great cook.
Jules wasn't quite sure what to expect on her first day, but she didn't expect to be facing none other than Nick. They had a hot and steamy affair about a year ago before when Jules was on a work trip. Their chemistry and connection were more than she bargained for and she ran from the idea of a relationship.
"How could you possibly think we have nothing to talk about?"
She shrugged, and then wrapped her arms around herself, her eyes locked on the floor. "I don't know what you want me to say."
He fought the urge to scoff. "Oh, I don't know. 'Hi, Nick. Nice to see you, Nick. You look great, Nick. Sorry for walking out on you, Nick.' Any of those would be a fantastic start."
Working together certainly tests them, especially as both signed contracts with a no fraternization clause. And they do have to work closely together as he prepares for his upcoming fights and chance for the championship. They try to be professional and try to be friends, but their memories and their chemistry leave them both yearning for more. Pursuing and trying to date the boss' skittish daughter might just be more distracting than it's worth.
"You want this just as much as I do. Admit it. Say yes to us, Jules. I'm not playing games anymore. I can't."
She frowned slightly and opened her mouth, but he released her wrists and pressed a finger to her lips, shaking his head slowly. "Think it over. You know where to find me."
Dirty Boxing is a sexy, second chance, workplace romance. Tara Wyatt and Harper St. George created good anticipation, conflict, and chemistry. Ms. Wyatt and Ms. St. George provided interesting secondary characters in their friends and family. Fans of Cherrie Lynn and Jennifer Fusco will enjoy Dirty Boxing.

Book Info:

Publication: September 18th 2017 | Pocket Star | Blood and Glory #1
Perfect for fans of emotionally charged, sexy reads, Dirty Boxing, the first installment in the Blood and Glory series, reveals that the mixed martial arts battles waged inside the octagon are second only to the battles fought in the name of love.
After an unstable childhood, Jules Darcy is very familiar with the risks of falling in love. And as an adult, she's never let herself forget just how high those stakes can be. That's why she ran away a year ago after her fling with MMA fighter Nick Giannakis quickly got serious. But when she jumps at the opportunity to reconnect with her dad by accepting a job with his growing fight league, she's stunned to learn the abs, the chiseled arms, and the rock-solid punches she has to market belong to none other than her former fling. Unable to run away from the sexy middleweight this time, Jules vows to keep things strictly professional. But one look at Nick, and her resolve starts to crumble….
The last thing Nick expects when he signs with the prestigious World Fighting Championship is that he'll have to work with the only woman who ever broke his heart. Desperate to hide the pain she caused him, Nick vows to keep his distance from his gorgeous ex. But when he realizes their intense chemistry hasn't faded after a year apart, he wonders if they could have a future together, even if dating the boss's daughter could complicate his bid for the championship belt.
Under the bright lights of Las Vegas, in the world of high-stakes prize fighting, they'll have to take a risk and decide if their love is worth fighting for.