Disorderly Conduct by Tessa Bailey: Disorderly Conduct is the first book in Tessa Bailey's brand-new Academy series. The story is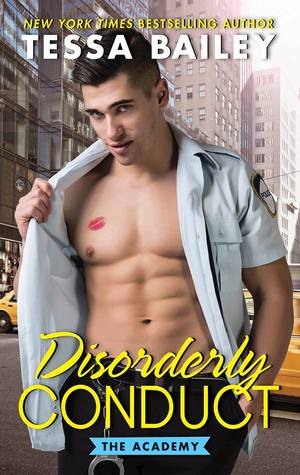 about a cadet in the police academy and the gorgeous woman, he meets at a bar. Both characters want nothing serious and what is supposed to be a one-night stand, turns into something more.
Charlie Burns meets Ever Carmichael at a bar and they both want the same thing, a hot night of sex, followed by no strings. Ever and Charlie both know the score, but realize one night isn't enough. Charlie cannot get enough of Ever, and they both enter into a friends with benefits relationship. But when Ever gets a visit from her mother, Ever decides she's done with the no-strings concept and is ready to find Mr. Forever. The only problem is, Charlie refuses to let her go. He's not into forever, but he doesn't want to her leave. So, what's a guy to do?
Both characters have mommy issues. It's why they are the way they are. The back and forth between Ever and Charlie had me shaking my head quite a few times. Ever tries to cut ties with Charlie, but with him showing up everywhere she is, it's hard to do. There were a few light-hearted moments that made me smile, but then there were times when I wanted to throttle Charlie, because he knew the things he was doing to Ever was wrong, but he still persisted.
I am a huge fan of Tessa Bailey and literally devour everything she writes. With that being said, Disorderly Conduct, didn't hit the mark for me. Before anyone gasps, this is probably all on me. Like I mentioned, this author is amazing, but for some reason I couldn't connect with her characters.

Book Info:

Publication: August 29th 2017 | Avon | Academy #1
You don't know what you've got until it's gone…
Police academy cadet Charlie Burns can't believe his luck when the gorgeous blonde he meets in a bar murmurs those magic words: "Nothing serious, 'kay?" Mind-blowing, no-strings sex with Ever Carmichael—it's the holy grail of hookups for a guy who's too busy following in his law enforcement family's footsteps to think about getting serious. Charlie's all about casual…that is, until Ever calls it quits and his world tilts on its axis.
Ever knows that when you control the relationship game, you can't get played. But for the first time, she wants more than short-term satisfaction. Step one: end her fling with commitment-phobic Charlie. Step two: sacrifice herself to the ruthless NYC dating scene. Yet everywhere she turns, there's Charlie, being his ridiculously charming self. No online match or blind date compares to the criminally hot cop-in-training, but they're over. Aren't they?
If love is a four-letter-word, why does the idea of Ever seeing someone else tie Charlie up in knots? Now he's desperate to win her back…and a little date sabotage never hurt anyone, right?