In Do You Want to Start a Scandal (Spindle Cove #5) by Tessa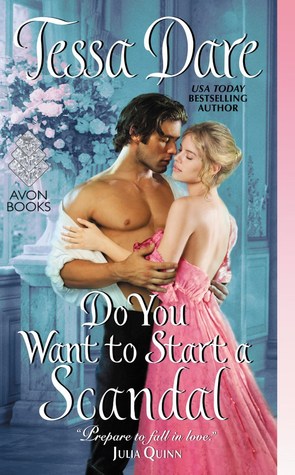 Dare, Charlotte Highwood is quite certain her loving but slightly obsessed mother is meaning to push her at every eligible gentleman during their stay at Parkhurst Manor. Normally she would be happy to spend a fortnight with her dear friend Delia Parkhurst in the country. But things get off to a scandalous start when she's found in the library–unchaperoned–with Lord Granville, Piers Brandon, after someone overhears what sounded like lovers in the throes of passion. Charlotte wants to clear her name and find the mysterious couple. Although the marquess seems to have his sight set on a marriage of convenience. Will she be able to change his mind, or is there a chance that theirs could be a love match after all?
"If my alternatives are social ruin or a loveless marriage, I will take ruin. At least that would leave me the chance to find happiness somewhere else."
He spread his hands. "I don't know what you want me to say."
"I want you to tell me, in simple terms, just what I'm getting if I marry you. Are you offering me love and partnership? Or a cold, elegantly appointed prison?"
Piers has spent his life in control of his surroundings and pushing back his family's troubled past. If there's one thing he doesn't want, it's emotional entanglements. And that is exactly what Miss Highwood will be. But Piers cannot seem to stop himself from continually seeking out Charlotte or putting them in situations that could further ruin her reputation. The easiest thing to do would be to find out who started the whole fiasco and make them fess up. But Piers isn't so sure he can walk away from the golden-haired beauty or imagine a life without her laughter and charming ways.
"What's your plan…?" she whispered. "Do you mean to kiss me so long and so hard that I'll forget your identity?"
"No." His hand slid to the back of her head, tangling in her hair–so tightly she gasped. "I mean to kiss you so long and so hard that you'll forget yours."
Do You Want to Start a Scandal was a lively addition to Tessa Dare's popular Spindle Cove series. The offbeat characters, sticky situations they found themselves in, and the thread of mystery kept me intrigued and chuckling as I sped through the pages of this historical romance.
"What will it be, my love?" He offered his arm. "Shall we make a few stitches in your tattered reputation? Or do you want to start a scandal?"
She threaded her arm through his. "With you? I'll take the scandal any day."
There was so much to love about Piers and Charlotte's story that it's difficult to know where to begin. First off, this can be read as a standalone or as part of the Spindle Cove series and will work well either way. For those that have been following the series, you will get a quick reunion with a few previous characters, which is always fun. Secondly, this of course was a Regency romance but it had a bit of a whodunit included. I thought Dare did a nice job with building the mystery and piecing out just enough information at a time to keep it all interesting. She even managed to include a nod to Jane Austen and Stephen King and have it work perfectly with the storyline. (Wait until you read the ode to one of Stephen King's famous lines…it had me giggling and snorting!)
Charlotte and Piers were both strong characters who were quick-witted and had analytical minds. I loved that they made such a great team, trying to figure out who the lovebirds were in the library to clear Charlotte's name. They understood each other so well, Piers knowing that he must be careful not to challenge her or she would do the opposite of what he demanded. And Charlotte knew that he was capable of love and had built up a wall around his heart to protect himself after a tragic event in his childhood. They brought out the best in each other, but they also had a lot of fun bickering and teasing. And the passion! Dare did a fantastic job with detailing their evolving emotions and created such a great sense of longing that it was easy to get swept away with the couple. *dreamy sigh*
Tessa Dare never fails to give us readers charming, heartwarming stories of love, friendship, and family. Do You Want to Start a Scandal had all of that and so much more. I think historical fans will have a wonderful time following Piers and Charlotte as they find their HEA.
Book Info:

Publication:  September 27th 2016 | Avon | Spindle Cove #5
On the night of the Parkhurst ball, someone had a scandalous tryst in the library. Was it Lord Canby, with the maid, on the divan? Or Miss Fairchild, with a rake, against the wall? Perhaps the butler did it.
All Charlotte Highwood knows is this: it wasn't her. But rumors to the contrary are buzzing. Unless she can discover the lovers' true identity, she'll be forced to marry Piers Brandon, Lord Granville—the coldest, most arrogantly handsome gentleman she's ever had the misfortune to embrace. When it comes to emotion, the man hasn't got a clue.
But as they set about finding the mystery lovers, Piers reveals a few secrets of his own. The oh-so-proper marquess can pick locks, land punches, tease with sly wit . . . and melt a woman's knees with a single kiss. The only thing he guards more fiercely than Charlotte's safety is the truth about his dark past.
Their passion is intense. The danger is real. Soon Charlotte's feeling torn. Will she risk all to prove her innocence? Or surrender it to a man who's sworn to never love?