In Doing It for Love  (All about Love #1) by Cassie Mae, believing the sex on the night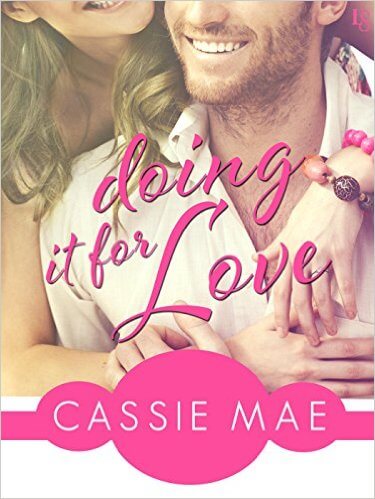 she and her boyfriend became engaged was mediocre at best, Elizabeth 'Liz' Fanning is afraid she's becoming part of a married couple before they even say 'I do'. Determined to make sure their wedding night doesn't turn out the same way, she proposes a plan for the pair to go without sex until they're married. Uncertain whether they can last long without it, they decide to make things interesting. Whoever can handle their sex-deprived state the longest gets to choose the honeymoon destination.
What a charming and entertaining read this book was with its fast-paced plot that kept me glued to every word to see how things would work out for Liz and Landon. The idea of bringing spice back into their relationship by the heroine was really quite interesting, as the couple face a few obstacles. How are they going to pay for a wedding? How will things go when they meet their future in-laws? Liz meeting Landon's parents was amusing. She does not make a very good first impression. Yet, she needed to do something to stand up for herself against her future mother-in-law's contemptuous attitude. While Landon meeting Liz's mom was an absolute classic that it was no wonder she liked Landon immediately.
"I want to show you something."
"Landon, keep it in your pants."
He shakes his head. "Remind me to cut you off after one glass next time."
I really enjoyed the teasing banter between Landon and Liz, as well as between Liz and the secondary characters. It was fun, and made me either laugh or smile. I loved the hurdle list as Liz calls it, and there is one scene where she and her mom are sharing their lists, and it seems she can talk to her mom about anything. It was humbling how open they could be with each other, even if the topic seemed a little embarrassing for Liz. However, the dialogue did become quite intense as well. Landon faces a tough decision when it comes to providing for Liz. Should he give up his dream to find a job that will give the pair a more stable life? I really felt for Liz through that part of the book, as what he does in trying to make his decision was a cause for concern. He's never done anything like it since they started dating.
"We have to toss glitter in the air," Theresa says, throwing her arms out like she's actually tossing glitter. "Otherwise it won't work."
Alec nods. "Yeah, and the glitter has to be from a fairy's ass."
"Like Peter Pan."
"Tinker Bell didn't poop glitter."
"How do you even know that?"
"I babysit."
Liz and Landon are a really fun couple, and love each other so much. Their little signals that reveal that love without actually needing to say the words was wonderful. The intimacy between them was steamy, and the way the heroine compares their past and present lovemaking to various foods was comical.
In the end, this was a good book, of which the secondary characters provided just as much entertainment as Liz and Landon. It also has me intrigued to read the next in the series. I would recommend this story, if you're looking for a fun read with a steamy twist. Definitely a story to take on holidays.
Book Info:

Publication: September 29th, 2015 | Loveswept | All About Love #1
Cassie Mae's charming, sexy new novel, perfect for fans of Emma Chase, puts a steamy twist on modern love as one bride-to-be tries to put the spark back in the bedroom—by any means necessary.
Elizabeth Fanning's life looks pretty perfect, judging by the diamond ring on her finger. Her fiancé, Landon, is sweet, handsome, and hilarious. The trouble is, before they've even tied the knot, their sex life has gone from mind-blowing to "meh"—and Liz isn't ready to be part of an old married couple. After a cathartic call to her best friend, Liz comes up with a brilliant idea. She and Landon may never be able to re-create the magic of their first time, but how amazing would their wedding night be if everything below the neck was off-limits until then?
Liz thinks it'll bring them closer together. Landon's convinced she'll cave first. So they raise the stakes: Whoever lasts longer gets to pick their honeymoon destination. With her heart set on the Bahamas and Landon fighting for snowbound Utah, Liz simply has to win. But pretty soon, her body is screaming for attention, and Landon's never seemed so far away. Has Liz's experiment backfired? Losing their little competition would be frustrating—but the one thing she can't afford to lose is him.