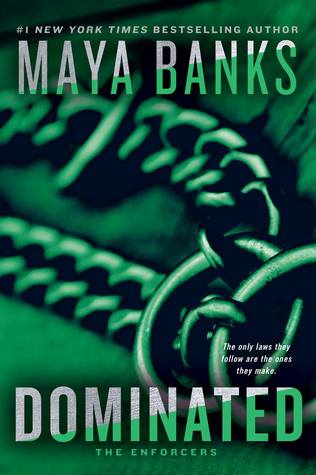 Dominated by Maya Banks: Drake is dominant, powerful, alpha male feared by many. He's surrounded by a group of other alpha males whom he considers to be brothers and enforcers. Drake prides himself on having no vulnerabilities or weaknesses, until he loses Evangeline in a bid to protect her.
Evangeline is a sweet and trusting woman who would do anything for her family and friends. She's a devoted daughter who remains close with her beloved parents. Understandably, Evangeline runs after hearing Drake's damning words. Her plan is to regroup before heading home, but Drake turns New York City upside down in his desperation to locate her. Drake's men, especially Silas and Maddox, are also devoted to her.
"What are you asking for exactly, Drake?" she asked skeptically.
"Whatever you're willing to give," he bit out. "In time, everything. But for now I'll take whatever you're willing to give me, as long as you give me the chance to make this up to you and to prove how important to me you are."
Their relationship has had its ups and downs. While Evangeline forgives Drake, she's still not entirely sure of her place in his life. She also knows that there are many things that Drake isn't telling her, such as the nature of his businesses. They do reconnect as he encourages her to voice her fears and concerns. Evangeline also challenges Drake to provide the domination she's come to crave.
"I think you're just asking for the crop or my belt."
"Well duh," she said, rolling her eyes. "I mean, what does a girl have to do in order to get punished these days? You're getting soft in your old age, Drake. If you aren't careful, you won't be able to keep up with me anymore and I'll have to put you out to pasture and retire you from stud services."
Dominated is hot, hot, hot! While Dominated can be read as a standalone, it may make more sense if read after Mastered. Maya Banks created an interesting cast of alpha males who would do anything for Evangeline. Ms. Banks gradually developed Evangeline throughout the story in a way that made sense for her character and background. Fans of Roni Loren and E.L. James will enjoy Dominated.
Book Info:

 Expected publication: May 3rd 2016 | Berkley | The Enforcers #2
From the #1 New York Times bestselling author of the Breathless Trilogy and Mastered, comes Dominated, the second novel in the Enforcers series—a bold new direction in erotic romance that explores the games men and women play, and the price they're willing to pay for pleasure.
Coming November 2016: The Enforcers Book III: Kept