Down a Dark Road: Linda Castillo's Kate Burkholder series just keeps getting better and better! Each book in the series has kept me up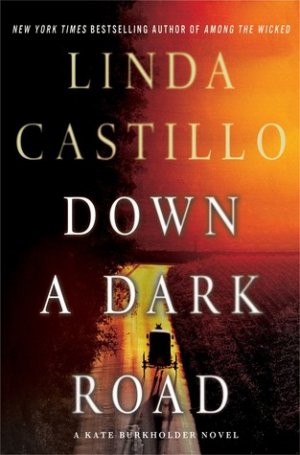 throughout the night on the edge of my seat, and this was no exception. Linda Castillo is extremely skilled at weaving a suspenseful and very "real" feeling story. If you are new to her books, I do believe you can read this as a stand alone- or any book in the series so far. Each are capable of being a stand alone novel.
In "Down a Dark Road", Kate, the police chief in a small predominantly Amish town in Ohio, stands out as a novelty, having grown up Amish herself, though she chose to not join the church. Her familiarity with the dialect and culture do help her when interacting with the Amish in cases. Kate is alerted that a convicted murderer has escaped from state prison, and that authorities believe he may seek out his children in a family member's home. Kate strives to help her fellow law enforcement officers find Joseph King before he can harm his children or anyone else. Unfortunately in the process she is taken hostage. She experiences conflicting feelings, having had an infatuation for Joseph when they were youngsters. Joseph is vehement with Kate that he did not kill his wife, and he demands that she find out who is responsible.
Once set free by Joseph, Kate begins an investigation that quickly becomes hampered and dangerous, as there are those possibly amongst her colleagues who do not wish Kate to find answers.
What will happen to Joseph's kids? Will Joseph's innocence be proven? Will more lives be lost? I do not wish to spoil the story for my fellow readers. I do highly recommend that you read "Down a Dark Road", if you are a lover of suspense that happens to be woven into the Amish genre. What a combination!

Book Info:

Publication: July 11, 2017 | Minotaur Books | Kate Burkholder #9
In this electrifying new thriller in the New York Times bestselling series, a convicted murderer is on the run and Chief of Police Kate Burkholder must catch him before he strikes again.
Eight years ago Joseph King was convicted of murdering his wife and sentenced to life in prison. He was a "fallen" Amish man and, according to local law enforcement, a known drug user with a violent temper. Now King has escaped, and he's headed for Painters Mill.
News of a murderer on the loose travels like wildfire and putting Chief of Police Kate Burkholder and her team of officers on edge. A nightmare scenario becomes reality when King shows up with a gun and kidnaps his five children from their Amish uncle's house. He's armed and desperate with nothing left to lose.
Fearing for the safety of the children, Kate leaps into action, but her frantic search for a killer leads her into an ambush. When King releases her unharmed, asking her to prove his innocence, she begins to wonder whether the police are hiding something, and she embarks on her own investigation to discover the truth.