Down home Cowboy by Maisey Yates: Needing a restart for both him and his daughter so they can fully heal and move on from his wife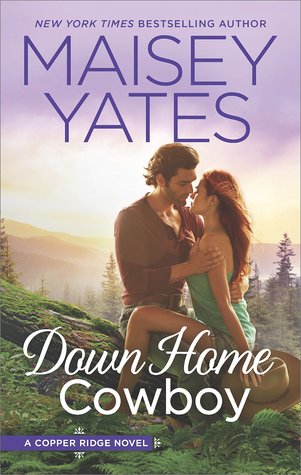 abandoning them completely three years ago, Cain moves to Copper Ridge to live on and work the ranch he partially inherited recently from his grandfather with his three estranged half-brothers.
Over the past few years, Alison has focused on building her bakery business and making herself strong and independent after leaving her abusive husband. Meeting Cain, the attraction is instant. But, especially because his angry and rebellious daughter Violet is now working for her, Allison certainly won't let herself get involved with another man.
Both are trying to rebuild in ways they think are best, but what happens when life throws something undeniable, and seemingly unattainable, right in front of them?
I'm definitely a fan of these four brothers and the relationships they're building. Cain is such an angry and conflicted sweetheart. Both he and his daughter are actually, and I love them both for it even as I want to hit them over the heads. Honestly, his stubbornness was on the edge of too much for me throughout the story, particularly in how he related to his daughter and the advice given to him by Alison. The man straight up refused to listen no matter how many times he was told.
That said, I loved him. I loved his passion for Alison. And I loved Alison's vulnerability, her sweet and soft interior protected by a tough and confident exterior. Cain is certainly the man to protect and properly take care of that vulnerability. And while I don't normally love the romances with kids, it did work for me here.
Down Home Cowboy can be read as a standalone, but I definitely recommend reading all of Copper Ridge, particularly Finn's story first at the very least to get some more background on their situation. Overall, I highly enjoyed this romance, although throughout Yates' stories I do have an issue with how much repetitive inner monologue there often is.

Book Info:

Publication: June 27, 2017 | Harlequin | Copper Ridge #8
This Texas cowboy has come home to Copper Ridge to put down roots…but will he risk his heart again?
Asked where he'd be at this point in life, Cain Donnelly would have said anywhere but Copper Ridge, Oregon, living with his estranged brothers. But since his wife abandoned them, both he and his daughter, Violet, are in need of a fresh start, so he's back to claim his share of the family ranch. Local baker Alison Davis is a delicious temptation, but she's also his daughter's mentor and new boss. That makes her off-limits…until she offers a no-strings deal that no red-blooded cowboy could resist.
Alison has worked tirelessly to rebuild her life, and she won't jeopardize her hard-won independence. Especially if it also complicates Cain's relationship with Violet. But with Cain offering a love she never thought was possible, Alison has to find the courage to let her past go…or watch her future ride away for good.