In Down on Me (Man of the Month #1) by J. Kenner, The Fix on Sixth might look like your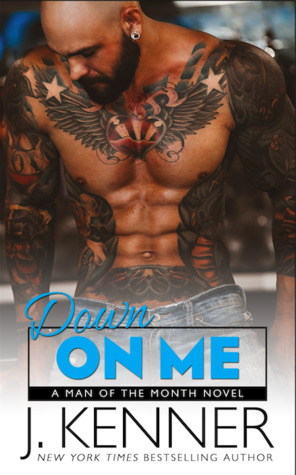 average Austin bar, but for Reece Walker it's his home, filled with the people he calls family. So when he and his two life long best friends, Brent and Jenna, find out that the bar's owner Tyree is in a financial bind, of course they're going to do whatever it takes to help him. But with Jenna back in town after a stint in LA, Reece keeps getting distracted by memories of a night almost a year ago when his desire for her became something he could no longer ignore. He'd be smart to try to push those feelings aside–as he's done for years–but when Reece sees the same desires mirrored in Jenna's eyes? All bets are off. He decides he's going to find a way to keep the friendship between them intact as well as claim her for his very own. All while saving the bar and not ruining their friendship with Brent in the process. Easy, right?
'So, yeah. The Fix was home, and Tyree was family.
Helping him was a no brainer. The question was how.'
Jenna Montgomery's lofty dreams of a fast-paced career in LA crashed and burned pretty quickly, leaving her to come back home to Austin. At least she gets to be around her close friends again, especially Brent and Reece. Two of her biggest supporters. But Jenna has to admit that since she and Reece had a few tender moments together eight months ago when she was drunk off her feet, things have been…different. She's trying to act normal, although on the inside she finds herself craving him in a way that is decidedly *not* appropriate for someone who is supposed to be just a friend. Not wanting to ruin the friendship they've cultivated over the years, Jenna throws herself into a marketing/PR campaign for The Fix, including the idea for a hunk of the month calendar. Prospects look good for the bar. But will she and Reece ever be able to sort out their feelings and their different perspectives on relationships?
"Do you know what you've done? What you've destroyed? You and me and Brent–"
"No." The word lashed out, as hard as steel. "We three are together for a lot of things," he said softly. "But Brent's not any part of this."
…"And just what is *this*?" she snapped…
"I guess that depends on you."
A combination of life long friendship and sweet & steamy romance made Down on Me a stellar start to J. Kenner's newest series. If this is any indication how the rest of the romances will play out, count me in!
'I love you. He hadn't said the words before, and the way he spoke them now–without any fanfare, as if he'd said them dozens of times to her–made her heart swell, because that reinforced how deep the feeling went. How much their shared past played into a shared future.'
So I thought J. Kenner had a really cool setup for her Man of the Month twelve-book series. The books are coming out biweekly starting in January 2018, *and* it sounds like each will be featuring some of the most popular romance tropes. The overall premise behind it is about saving a local bar in Austin and the awesome people who frequent The Fix on Sixth. And as fans of Kenner's work will quickly figure out, yes, this was the same Austin hangout featured in Wicked Torture where Kiki got back up on stage to perform again. Speaking of which, I really do love how so many secondary characters from previous books (and even some main characters) pop up here and there in each new novel. It's almost like seeing an old acquaintance and getting to catch up with them, which of course is always huge fun.
I'm definitely a fan of friends-to-lovers tropes and I just knew Kenner would not let me down. I have to say that it even felt like another layer of complexity was added in here where Reece and Jenna, our lovebirds, had been best friends with the third member of their trio, Brent, since grade school. It wasn't a love triangle. Nope. The complication, I thought, was that neither Jenna nor Reece wanted to do anything to damage that friendship all three of them shared. And I truly felt like they had each other's best interests at heart when Reece and Jenna's real feelings began to come out. That's not to say they didn't make any blunders. They did, and honestly my one sticking point was with Jenna basically giving Reece what I felt was an unfair ultimatum towards the end. I got where she was coming from but it had to basically be pointed out to her that she wasn't taking his feelings and beliefs into account.
Other than that one teeny tiny issue, Jenna was pretty awesome in my book. Smart, had a bit of sass to her, loyal and kind, she's the type of heroine you want to become friends with in real life. Reece was equally wonderful. He was confused when it came to long-term relationships, thanks to the example his father had set, but he was a genuinely good guy who was also caring and super loyal. I got a kick out of how hard both Jenna and Reece fought their feelings when it was SO obvious to everyone else that they were totally into each other. But once they did get together? Magic. Tons of yummy chemistry paired with a tender, heartening connection that was oh-so right. Sigh…
Charged up with that erotic edge J. Kenner is known for, fans will undoubtedly breeze through Down on Me and easily fall in love with the entire lovely cast. (And will you just *look* at that book cover?? Yowza!)

Book Info:

Publication: January 16th 2018 | by Martini & Olive | Man of the Month #1
Tight muscles. Vibrant Ink.
Meet Mr. January. Winter's never looked so hot…
Certified bachelor Reece Walker wants two things — to save the local bar he manages and to get Jenna Montgomery into his bed.
He has a few ideas for the bar. But Jenna… well, he's going to have to rely on cold showers, because she's been his best friend for years, and that's a line he just can't cross.
Until one wild kiss on a dark night changes everything. Now Reece is certain Jenna's meant to be his.
And with long nights in bed, sensual caresses, and deep, lingering kisses, he sets out to thoroughly convince her that friends can be lovers, too.