In Drawn to Jonah by Jennifer DeCuir, Quinn Baker left home to follow her dreams to become an artist, thanks to a scholarship she was able to go to New York to get her degree. Only once there she met the man that became her husband and her dreams of being an artist were put on hold. Now after her marriage failed she has nothing to show for her fancy life in the city but a diploma that she never used.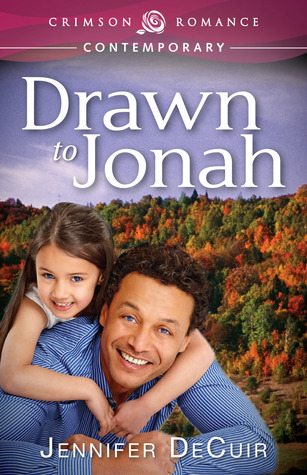 Now after the death of her grandmother, Quinn has returned home permanently. But things will not be easy, for her sister holds a grudge against her that Quinn does not know where it comes from and while Quinn wants to stay, her sister wants to empty their grandmother's house to sell it so Quinn can leave again. In the meantime, Quinn tries to make sense and find a purpose to her life, which she finds when she finds a letter from her grandmother asking her to help widower Jonah Goodwin, the town handyman, by babysitting for him like she used to do without charging him.
Jonah is ashamed of himself, he may be good with his hands and with numbers, but thanks to his father who used him as his assistant since he was a child, Jonah never learned to read. Now with his daughter wanting a story time every night, Jonah knows that he must learn before she finds out about his secret and becomes ashamed of him too. So while Quinn babysits Lily, she is also a literate person, and with her being new in town he doesn't feel as ashamed to ask her to teach him to read as he would another neighbor.
As they spend time together, Jonah starts feeling things towards Quinn that he has not felt in a long time, but what could he possibly have to offer her. She has had a businessman as a husband, his life and work does not allow him to offer her even a fraction of what she's had. But what Jonah doesn't know is that Quinn is also carrying a secret of her own, and one so painful that she only felt able to share it with her grandmother.
Jonah and Quinn are great characters with flaws and insecurities that only with love and patience can they be resolved. Only first they will face many trials that will put their love to the test, but once they get past that they will find the true happiness and love that they never had before.
If you like a heartwarming and sweet story that will also break your heart but makes up for it all in the end, don't miss Drawn to Jonah by Jennifer DeCuir.
Book Info:

October 14th 2013 by Crimson Romance
Quinn Baker followed her dreams of becoming an artist to New York City. But one failed marriage later and she realizes she has nothing to show for her fancy life in the city but a diploma she's done absolutely nothing with.
Now with news of her grandmother's death, Quinn heads back home to reconnect with the only family she has left, her sister, and figure out what she is supposed to be doing with her life. She finds an ally in handyman Jonah Goodwin. The widower asks an intriguing favor—teach him to read. The more time Quinn spends with Jonah and his adorable little daughter, Lily, the more she begins to rediscover herself, her passion for her drawing, and her longing for a child and a family of her own.
Illiteracy has kept Jonah from forging friendships and building a career his daughter could be proud of. Hiding his secret has always been a full time job. Yet something about Quinn inspires trust—she helps Jonah gain the confidence he needs to make a better life for Lily. But can she show him that, he too, is deserving of love?
Add in a dash of fairy magic and matchmaking from beyond the grave, and suddenly this small town has a lot more excitement than anything Quinn could find in the city.