Dreams of Lilacs by Lynn Kurland: I will gleefully admit that this is my favorite type of romance: lushly romantic, full of character development, loving families and a touch of mystery. It is also, most interestingly, a medieval romance, set in 1232. This is the fifteenth novel of Lynn Kurland's de Piaget series, but Dreams of Lilacs can definitely be a standalone book if you are a newcomer to the series.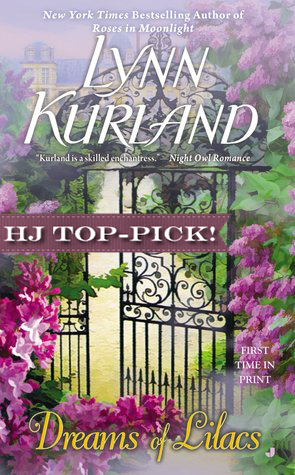 Isabelle de Piaget is the youngest, and only the second girl, in the large, protective and powerful de Paiget family. Her life has been pretty quiet, and she has yet to find a suitor that she favors. While at her family home in England, she receives a note that tell says if she does not present herself, alone, at an abbey in France then her grandmother will be killed. Her grandmother happens to be the abbess of the abbey. Through some careful manipulation, she manages to escape her brothers and get on a boat to France, but some very bad weather happens during the crossing.
Gervase de Seger is a knight, devoted brother, and Duke of Monsaert. He is also crippled—his castle caught fire, and while he was rescuing people, he was shot in the leg by a crossbow bolt, which shattered his thigh, and he was also burned by the fire. So not only is he recovering, but he is investigating who tried to kill him. He is in agony a great deal of the time, but tries his best not to give into the pain and give up. He goes for a ride to show his men he is not useless, and comes upon brigands robbing a lad. Somehow, despite all, he manages to fend off the brigands and rescue the very badly beaten lad, who has managed to lose his memory, is very striking in appearance:
Gervase almost fell off his horse. That was, he admitted freely, the most beautiful boy he had ever seen, the poor little bugger.
Of course, the "lad" isn't a lad at all, but Isabella with shorn hair and case of temporary amnesia caused by a shipwreck and a beating. After she recovers from her physical injuries, Gervase puts her into the kitchens to work as a scullery, and it takes him a few days to figure out that "he" is a "she" and that "she" is very intelligent and possibly nobly raised. After a while, Isabelle takes over his younger half-brothers' education; his oldest half-brother Joscelin has an inkling of who she may be, but Gervase, somewhat lost in his own concerns has no idea, although he is relentlessly drawn to her.
…he would have peace to retire to his solar, sit in front of his fire, and contemplate the mystery of a young woman with eyes like the sea who he vowed he was never going to look at again. He supposed if he reminded himself often enough of that, he might actually manage to believe it.
As Isabelle slowly regains her memory, and finds ways to be special in the household, Gervase gradually grows to rely and value her, and his brothers (the youngest, Yves, is only six) who have been abandoned by their pleasure-loving mother, grow to love her. Isabelle, who has always felt "overlooked" in favor of her more flamboyant sister Amanda, relishes the feeling of worth she gets at Monsaert, and the attentions of its handsome yet tortured lord.
She suspected…that his worst flaw was his handsomeness when he scowled. She didn't want to think about how he looked when he smiled.
Despite their quiet mooning over each other, the mysteries that surround them must be attended to. There is the mystery of who she is (relatively quickly taken care of), of why she was called to France and by whom, and who is trying to kill Gervase. Isabelle is resourceful, but largely not reckless (until she is unexpectedly shipwrecked she had a chaperone), and she is caring and helpful. Gervase is brave and has great perseverance despite the fact that most days he has to drag himself out of bed. He is also not set in his ways or overly proud of his title and holdings. Family is a huge part of this book, and we not only meet most of Isabella's siblings, but her parents and her grandparents. Gervase also has a big family, with six half-brothers, the majority which are in desperate need of mothering. Although a couple of the half-brothers fade into the woodwork, the majority of the background characters, from one of Isabelle's failed suitors to the captain of the guard, have a unique voice and stand out in their own way. The dialogue is endlessly clever, and subtle humor is rife throughout. There are not a lot of books where the main characters meet by having one fall on the other!
He swung down out of the saddle. Well, in truth, he fell out of the saddle, twisted on his way down, and landed full upon his victim—er, his peasant in need of a decent rescue, rather.
It is a well known fact that Lynn Kurland is a PG-rated writer, and that she believes that what goes on behind closed doors should remain there. I enjoyed the courtly and gentle romance at the centre of this book and the fact that the characters got to know each other very well before they ever kissed. It's nice to read a book where the hero and heroine have sense, and are not senselessly carried away by their baser longings. This book is excellent but not completely flawless; there's a lot of talk about how Gervase is going to be killed by Isabelle's brothers, father, and grandfather after he rescued her and inadvertently put her to work in his kitchen, which actually seems rather ungrateful on the part of Isabelle's family (I can't recall if anyone ever thanks him for not letting her die on the side of the road). Also, I read the paperback version and the print is very small, especially if you're used to reading books on an ereader. If you need bigger print, buy the ebook version!
In my opinion this is a great book, and I heartily recommend it. This is a romantic book, not a sexy book, but the romance is swoon-worthy, the ending is satisfying, and the overall experience feels like time well spent.
Book Info:

Published April 29th 2014 by Jove
Isabelle de Piaget is determined to elude her overprotective family by means of a hasty escape to France. But instead of making a surprise visit to her brother there, she winds up shipwrecked on the French coast with no memory of who she is or how she came to awaken in the dark and forbidding castle of an equally brooding lord.
Gervase de Seger rescues—very reluctantly—the bedraggled urchin he finds on the road and puts her to work where he can ignore her. Unfortunately, he soon realizes that her brother is an intimidating lord who is going to be absolutely furious when he learns that his beloved sister has been laboring as a scullery maid. Yet Isabelle may be the one who holds the key to solving Gervase's most pressing problem: that someone has been trying to finish the task of separating him from his title and his lands.
Finding the truth propels Gervase and Isabelle from the buried secrets of half-ruined keeps to the glittering French court, and to the realization that love can blossom in the most perilous circumstances—and in the most unexpected places of the heart . . .