Drowning Tides by Karen Harper: This book was incredible! Incredible as in I was up ALL night reading this book over the weekend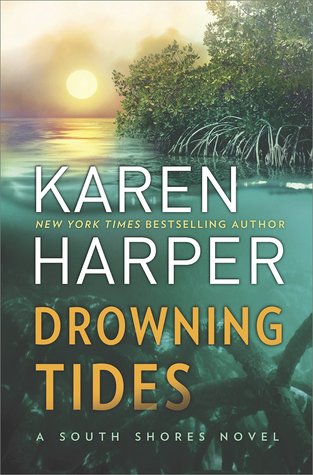 and couldn't put it down. Suspenseful is an understatement. Karen Harper really knows how to weave a story!
The reader is re-introduced to Claire, a forensic psychologist, her adorable daughter Lexi, and Nick, a prominent attorney who also has a side business of helping people clear their names from suspected suicide or murder. Claire's daughter is kidnapped by a sinister man, Clayton Ames, who has a mutual vendetta with Nick. Nick has long blamed Clayton for his fathers death. Nick and Claire follow Clayton's lure to the Cayman Islands to rescue Lexi. However, to save Lexi, they, and Lexi's father Jace, must "make a deal with the devil' that touches all their lives.
I hesitate to say more because i do not want to spoil the story! I will say that when the y return to the states, there is one close call after another while they try to pull free from Clayton's pervasive grasp. I cannot recommend this book enough.
Book Info:

Publication: January 31, 2017 | Mira Books | South Shores #2
When forensic psychologist Claire Britten started working with lawyer Nick Markwood on his South Shores project, she had no idea it would endanger her life and the life of her daughter. But when the little girl goes missing from her South Florida home and Nick insists his longtime nemesis is to blame, Claire frantically follows the trail to the Cayman Islands, desperate to save her daughter before it's too late.
Nick always knew the man who staged his father's "suicide" was out to get him, but kidnapping the child of someone he cares about is despicable. Finding the billionaire criminal is one thing meeting his demands in order to save Claire's daughter is quite another. What he wants threatens their professional and personal interests beyond imagination but what choice do they have when a child's life is on the line?