Gah – I loved Duke of Manhattan by Louise Bay:  It is sexy, fun and romantic with a hot duke and a marriage of convenience. My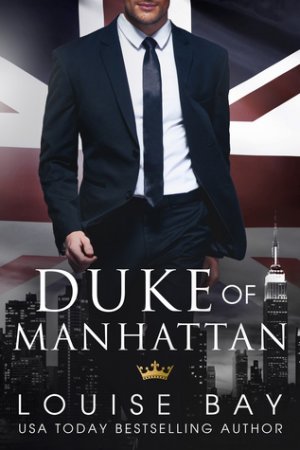 favorite tropes but without feeling trope-y.
Ryder Westbury and Scarlett King have an incredible one-night stand but don't expect to see each other again. Both are astonished when they find themselves seated across from each other at the boardroom table when Ryder's company attempts to purchase a majority interest in Scarlett's start-up fragrance business. While the chemistry between them burns just as intensely, neither is willing to budge in their negotiations, but Ryder is determined to get her back in his bed.
He needs a wife in order to inherit the Fairfax dukedom, and he negotiates a deal with Scarlett. If she agrees to be his temporary wife, he will agree to her terms in their deal. It's an offer she can't refuse, and she agrees, although she has concerns for herself and her heart. She's recently divorced, and she loved being married and worries she might never be able to have that again if she spends a year with Ryder.
They can't resist each other and decide to make their marriage real—at least in the bedroom—and the intimacy leads to feelings. Ryder, in particular, is uncomfortable because he's never been serious about a woman before. Scarlett is like no one he's ever known, and he's fascinated by her effortless charm, unassuming ways and work ethic. She throws him for a loop, and I loved watching him be astounded by a woman who is down to earth and relatable. Ryder will make the reader swoon; he's definitely an irresistible hero.
Duke of Manhattan is thoroughly enjoyable and wonderfully romantic, and I cannot recommend it enough.
Book Info:

Publication: 5/15/17 | Self-Published | n/a
I was born into British aristocracy, but I've made my fortune in Manhattan. New York is now my kingdom.
Back in Britain my family are fighting over who's the next Duke of Fairfax. The rules say it's me–if I'm married. It's not a trade-off worth making. I could never limit myself to just one woman.
Or so I thought until my world is turned upside down. Now, the only way I can save the empire I built is to inherit the title I've never wanted– so I need a wife.
To take my mind off business I need a night that's all pleasure. I need to bury myself in a stranger.
The skim of Scarlett King's hair over my body as she bends over . . .
The scrape of her nails across my chest as she screams my name . . .
The bite of her teeth on my shoulder just as we both reach the edge . . .
It all helps me forget.
I just didn't bargain on finding my one night stand across the boardroom table the next day.
She might be my latest conquest but I have a feeling Scarlett King might just conquer me.