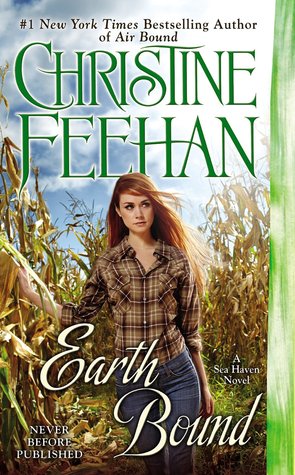 In Earth Bound (Sea Haven/Sisters of the Heart #4) by Christine Feehan, Earth element Lexi Thompson is finally on the path to healing after sustaining every type of abuse imaginable in a cult. Escape was only the first step. Now with the support of her sisters of the heart, they have created their own family on a farm that Lexi oversees. When Gavriil Prakenski appears just in time to save her from once again being taken by cult members, Lexi is shocked that she not only trusts him, but she feels a bond with him immediately. They're both broken and a bit lost. But maybe together they can be whole.
'Gavriil Prakenskii was a man worth fighting for. He needed someone to throw him a lifeline. Everyone saw the violence in him, but no one seemed to see his pain–or his worth. She did. She identified with him.'
Gavriil didn't expect that his journey to the farm to see his brothers, who have recently found love, to end up in the same predicament. He's a trained assassin who has never known true love or warmth. Yet that is the only explanation the moment he spots Lexi. Gavriil feels that instant connection and knows he will never leave her side. But when she and the rest of her family are threatened, he might have to become that heartless killer one last time to protect those he's come to deeply care about.
'He hadn't known…what he was going to do with Lexi Thompson. He knew now. He was going to keep her. He was going to defend her. He was going to do his best to walk the same path she walked.'
Intense! Earth Bound was a paranormal romance full of intensity: the emotions, the action scenes, the family drama. Every bit of it. And as with almost every Christine Feehan novel, the hero was all alpha male and the heroine was feminine and independent.
I'm not kidding when I said the hero was all alpha male. Gavriil was a seriously badass guy who even scared his own brothers a bit. I've read several of Christine's books and her heroes do tend to be very controlling but they also protect their loved ones fiercely. I'm not sure everyone will enjoy or relate to this type of character. But I liked Gavriil and how he changed a lot as his relationship with Lexi grew. I also enjoyed his attempts at humor and that loving, protective side she brought out in him.
This was a fairly dark story, stemming from both Lexi and Gavriil's tortured pasts. But the tone didn't seem too heavy to me, although it does deal with issues that will be difficult to read at times. Especially Lexi's recounting of her time in the religious cult. My heart went out to them both, as well as the other 'family' members that lived on the farm. I thought there was a wonderful sense of community, caring, and willingness to help out that came across loud and clear in Christine's writing. The love that was palpable between all of the couples was a great touch and detailed perfectly.
I think fans of dark paranormal romance will thoroughly embrace Lexi and Gavriil's story. It was a true testament to the difference love can make in someone's life.
Book Info:

 July 7th 2015 | by Jove | Sea Haven/Sisters of the Heart #4
The #1 New York Times bestselling author of Air Bound returns to the mysterious coastal town of Sea Haven where six sisters of the heart are bound by the elements, and one is stalked by an inescapable past…
After escaping from a cult, Lexi found refuge with her sisters on the farm that more than sustained her body—it nurtured her soul as well. But she never forgot the terror she left behind or the always present fear that the cult would find her again, and claim her. Then her nightmare came true.
Lexi was discovered and threatened—only to be suddenly saved by a stranger. He is Gavriil Prakenskii, and he's awestruck by the woman he's rescued. She is destined for him. He can feel it in his soul. But how can Lexi find happiness with a man steeped in secrets and shadows, one intimately acquainted with violence, and whose very love could be the death of them?
NEVER BEFORE PUBLISHED