Egomaniac by Vi Keeland: I am still smiling like a loon after finishing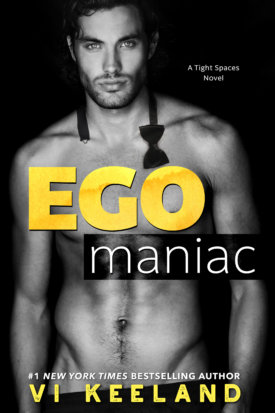 Egomaniac hours ago– it's a sublimely satisfying romance that hits all the right spots. From the first page, Vi Keeland hooks the reader with heartfelt comedy, emotional storytelling and simmering sexual chemistry. It's only January, but Egomaniac is already marked for my Best of 2017 list.
Emerie Rose is an Oklahoma girl who recently moved to New York City and just got conned. She leased the perfect Park Avenue office space for her marriage therapy practice, but her landlord wasn't the landlord and didn't have any right to rent out the space. He took her $10,000 in cash and now Emerie is out her savings and staring into the sexy eyes of her office's rightful owner – Drew Jagger.
Drew returned from a two-week vacation to discover he has a beautiful squatter. He's a cynical divorce attorney but he's not so mean to as kick a girl when she's down, especially one as unassumingly sexy as Emerie, and he offers to temporarily share his office until she can find another one. Even though their jobs put them at cross purposes – she's working to keep marriages together and he's taking them apart – these office mates work great next to each other and find they enjoy each other's company.
Enjoy is too tame a word – Drew and Emerie have unrestrained fun together and are fiercely attracted to each other. The sexual tension between them intensifies with each therapy session completed and divorce settlement negotiated, and both consider taking their relationship from the office to the bedroom.
If Egomaniac sounds like fun, sexy times – it is. But it's SO much more. Between Emerie and Drew's witty banter, Kindle-fogging sexual interludes and amusing antics, Vi Keeland weaves a touching story that gives this romance a complexity and depth that will resonate. If there were Oscars for romance novels, Drew would get my nomination for Best Hero in a Contemporary Romance. He's a little bit alpha-male and a little bit dirty-talking bad boy with a lot of hidden unpretentious, compassionate man underneath it all. There is not anything simple about Egomaniac – except it is simply a wonderful book.
Book Info:

Publication: 1/15/17 | Self-pub – Vi Keeland |
A new standalone novel from #1 New York Times bestselling author Vi Keeland
The night I met Drew Jagger, he'd just broken into my new Park Avenue office.
I dialed 9-1-1 before proceeding to attack him with my fancy new Krav Maga skills.
He quickly restrained me, then chuckled, finding my attempted assault amusing.
Of course, my intruder had to be arrogant.
Only, turned out, he wasn't an intruder at all.
Drew was the rightful occupant of my new office. He'd been on vacation while his posh space was renovated.
Which was how a scammer got away with leasing me office space that wasn't really available for rent.
I was swindled out of ten grand.
The next day, after hours at the police station, Drew took pity on me and made me an offer I couldn't refuse. In exchange for answering his phones while his secretary was out, he'd let me stay until I found a new place.
I probably should have acted grateful and kept my mouth shut when I overheard the advice he was spewing to his clients. But I couldn't help giving him a piece of my mind.
I never expected my body to react every time we argued. Especially when that was all we seemed to be able to do.
The two of us were complete opposites. Drew was a bitter, angry, gorgeous-as-all-hell, destroyer of relationships. And my job was to help people save their marriages.
The only thing the two of us had in common was the space we were sharing.
And an attraction that was getting harder to deny by the day.