Embrace Me by Ann Marie Walker and Amy K. Rogers: Allie and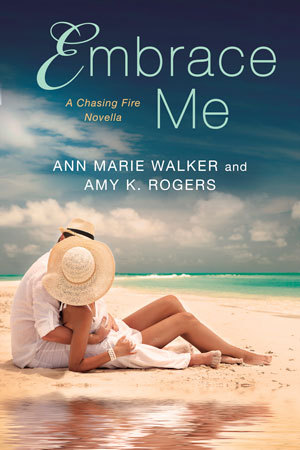 Hudson are finally happy and settling into their life together after all of the drama, betrayal, and tragedy. They are already married, but have chosen to renew their vows so that their family and friends can be in attendance. Except the expectations for a large society wedding are starting to overwhelm Allie.
"What are you doing here?"
"I'm your three thirty. Colin called me this morning to schedule, thought you might need it after he hit you with all the wedding decisions." Hudson chuckled. "I believe he referred to me as a 'little pick-me-up'."
After waiting for 10 years and then battling to finally get Allie back, Hudson isn't about to let their vow renewal get the best of his better half. Instead, Hudson decides to do what he does best and simply take over. Hudson delights in having full control and the ability to totally surprise Allie in all respects. Throughout, Hudson and Allie demonstrate their chemistry and devotion to each other. Being married doesn't equal boring for this couple as they continue to banter, tease, and challenge each other.
Allie smiled. "Possibly. Is it working?"
"Well, that depends," he said. "What's your end game?"
She bit her bottom lip in an attempt to act coy. "Perhaps a few more details about our stay here?"
Embrace Me is a sexy follow up to a couple who works and plays together. Ann Marie Walker and Ann K. Rogers keep true to the characters, while providing just enough drama and conflict so that this novella adds to the series. Ms. Walker and Ms. Rogers provided a great secondary characters in Harper and Nick. Embrace Me is meant to be read after Reclaim Me in the Chasing Fire series. Fans of J. Kenner will enjoy Embrace Me.
Book Info:

Publication: September 20th 2016 | InterMix | Chasing Fire #3.5
Hudson Chase and Alessandra Sinclair's heartracing romance continues in this hot, new novella in the Chasing Fire series.
Return to the dangerous and seductive romance that got pulses racing in the Chasing Fire trilogy…
It took ten years for Hudson Chase and Alessandra Sinclair to find their happily ever after, and they're not about to let anything get in their way…
Nothing could stop the passion between Allie and Hudson—not time or distance. Not even tragedy, betrayal, and blackmail. But now they're facing a new challenge: wedding planning. And while Allie's social status demands she put on the event of the century, her well-intentioned family and friends have her doubting her walk down the aisle…
Hudson knows tensions are pushing Allie to the brink, but he's not letting her throw everything away over some flowers and cake. He has plans for his new bride, and unlike their last adventure, he's determined that this time there will be no unwelcome surprises. But for all his determination and control, there's one element Hudson Chase has never been able to predict—and she has some adventurous ideas of her own…