Empty Net is another great book in the Assassins series by Toni Aleo, Audrey Parker may look like she has the perfect life on the outside, but on the inside she is a wreck. She hates her job, her lover has broken up with her again for the woman he has been cheating with the entire time they were together and her sister is moving out and marrying her true love leaving her all alone.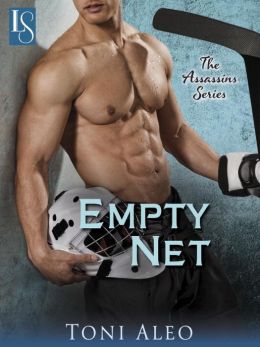 Tate Odder has no one but his teammates. He lost his entire family in a car accident the year before to some very irresponsible kids who came out of the accident almost unscathed. Now he also suffers from anxiety attacks when it comes to driving, doesn't matter if he is a passenger or the driver. The only place he is at home is while playing hockey and defending the net.
While at Fallon's bachelorette party, Audrey feels like the odd one out. Especially since Levi just called her, insulted her and broke up with her in one single call. But she must keep the façade in front of Fallon or risk ruining her party. As she goes to the bar for more drinks, she can't help the instant attraction to the big blond guy hitting on her. But she only wants a fling and doesn't want to even know his name.
The next morning when Tate wakes up to find Audrey trying to sneak out of the room he feels disappointed. No matter what he said she insist on only a one-night stand, but now days later he cannot get her out of his mind.
To Audrey and Tate's surprise, they find the identity of their fling at Fallon and Lucas's wedding. Now at the reception Audrey will do everything possible to stay away from Tate, especially after she learns how much younger than her he is.
Tate is surprised by the show that Audrey is putting on so early in the morning dragging and throwing her bed, her sheets, covers, pillows and many more things in the middle of the yard only to burn them all. And so the friendship between Tate and Audrey starts to develop for not only is he a great friend and neighbor, he is also there for her whenever she needs him.
But things will not be easy to either of them, for Levi will not give up on using and abusing of Audrey that easily and unless Audrey faces the truth she will not be able to have the true happiness that Tate has been trying to show her they can have together.
I don't want to give everything away, so I will not tell you everything that happens, but all I can say is that this book had me even more hooked than the first two. I kept cheering for Tate and sometimes wanting to slap Audrey for allowing Levi to behave the way he did. I understand her low self-esteem and her traumas she developed after she had an abortion while a teenager, but that didn't mean that she deserved to be abused. I love that she then saw the light and the truth of what love should be and she fought for it with Tate.
And OMG, I can't wait for Blue Lines to be released, I want to know what happened to Piper after she slept with her unrequited love Erik Titov, and then being dumped by him soon after. I just know that is another great story in the making.
If you like stories with hot hockey players that will stop at nothing to get what they want, and some great heroines that will not be easy to catch, The Assassins series by Toni Aleo is a great choice.
Book Info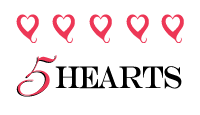 Publisher: Loveswept (September 2, 2012)
Audrey Parker is up against the boards. She's stuck in a job she hates and pining for a total jerk. Meanwhile, her sister Fallon is moving out and getting married to hockey star Lucas Brooks. Where is Audrey's Prince Charming? Nothing she does has ever seemed to be good enough for any of the men in her life. Audrey's about to hit rock bottom . . . until she wakes up next to Tate Odder.
The thrill of moving up from the minors to the Nashville Assassins was a welcome distraction. But not even becoming the first rookie goalie to tally three shutouts in the Stanley Cup finals alleviates the pain. With the loss of his parents and sister weighing as heavily on his soul as ever, Tate Odder can't keep pretending he's okay. That's when he meets smart, sexy Audrey. Her gentle warmth and quirky sense of humor make him feel whole for the first time in too long. But to stay that way forever, Tate must find a way to accept his past and learn to live for love