Once again Avery Flynn has another hit with Enemies on Tap (Sweet Salvation Brewery #1), the first book in her new Sweet Salvation Brewery series. I love Ms. Flynn's writing style because it is lively, evenly paced and crisp. Secondly, the attraction between primary characters Miranda Sweet and Logan Martin is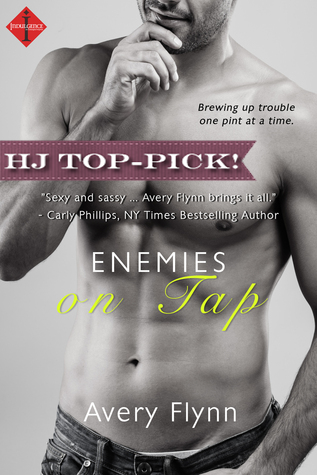 like molten lava and their rekindled feelings are undeniable. Lastly, the clever storyline about family redemption is wonderfully executed.
Let's begin with the location of the story, which is the small town of Salvation, Virginia. As small towns go, the inhabitants of Salvation are the most gossipy, manipulative and depraved that I ever encountered. Years ago, the town was founded by two families, the Sweets and the Martins. Overtime, both families evolved and the Sweets ended up on the crazy side of the fence while the Martins prospered. As a result, being a Sweet in the town of Salvation is both demoralizing and humiliating.
Miranda and Logan fell in love back in high school and broke each other's hearts in the process. After not seeing each other for ten years, they meet again when Miranda returns to town to fix up and sell her late uncle's brewery. The chemistry is still there and their passion for each other has not wavered. In order for them to be together, they have to forgive the mistakes of the past by experiencing the town of Salvation from each other's perspective.
Miranda and Logan are great characters. They are carefully defined, so I was able to connect with them immediately. Their heat is amazing and Ms. Flynn certainly can craft a hot love scene. The antics and actions of the townsfolk, mayor, and Miranda's boss are jaw-dropping mean, which I found unbelievably disheartening. Ms. Flynn composes "mean" as well as "kind" quite clearly, and as a result I was able to follow the twists and turns of the story without batting an eye. This book is so good you won't want to put it down, so plan to spend some time in Salvation and don't pass up the opportunity to read this meaningful gem.
Book Info:

Publication: July 14th 2014 by Entangled: Indulgence |  (Sweet Salvation Brewery #1)
Brewing up trouble one pint at a time.
Enemies …After years away, Miranda Sweet returns to Salvation, Virginia to save her family's brewery, but her fate is in the hands of her lover-turned-enemy, Logan. What's a girl to do when the only person who can help her is the man who betrayed her?
Lovers …Logan Martin can't believe his luck when the woman who smashed his heart to smithereens walks into his bank asking for his help. What she doesn't know is that he needs the land her brewery is on–and he'll do whatever it takes to get it.
An Irresistible Combination …Their wager becomes a battle between their attraction and their determination to win. But it's in each other's arms that they realize there might be more at stake now than their bet. With the town against the Sweet Salvation Brewery's success, Logan has to choose between what's expected of him and what he really wants…