Engaged for her Enemy's Heir by Kate Hewitt is a passionate second chance romance for a couple who meet in unexpected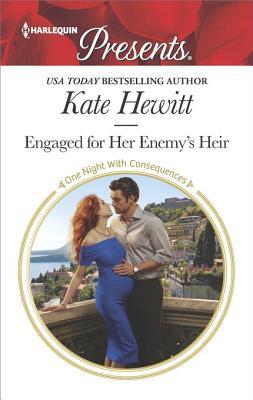 circumstances and indulge in a one night stand that has life changing consequences.
Allegra Wells doesn't know why she's come to her father's funeral. After all, he abandoned her and her mother several years earlier and went on to make a new family for himself with no looking back. But she's here and her eyes are soon caught by the handsome stranger on the other side of the room, one who makes his interest known. Maybe he can help her forget things for a few hours…
Rafael Vitali is grimly satisfied that Alberto Mancini has died. After all, the man was responsible for his own father's death, a death that tore apart Rafael's family. The beautiful, sad woman he sees is just what he needs to take him away from the funeral and he is easily able to seduce her. Discovering that she's the daughter of his sworn enemy after their passionate interlude abruptly puts all tender thoughts out of his head and they part on poor terms.
A few months later, Allegra is at her wits end when her pregnancy is revealed to be in danger, with a possible heart defect for the baby she carries. She contacts Rafael reluctantly, having initially resolved not to tell him about the pregnancy after the way he'd dismissed her following their hours together. Rafael is determined to do right by the child, and backed by his wealth and society status Allegra agrees to go back to Italy with him for the sake of the baby's health. As Allegra and Rafael come to a truce, the attraction that brought them together still simmers under the surface. Can they find a way to turn those feelings into a real loving relationship?
There is a lot of emotional angst in this story that drives the plot and makes for a heart tugging read. Though Rafael at first comes across as heartless in the way he seduces Allegra and then abandons her, he soon proves that he is not really that man at all. Guilt over the death of his father and how he failed his mother and sister has been the driving force for his revenge plan, but now that he's gotten his way, including taking over the Mancini's company, the victory is hollow. His feelings for his unborn baby get stronger the more time he spends with Allegra, as do his feelings for her, making him a more complex character than at first glance. Though some of his actions are questionable at the start, he redeems himself well and is worthy of hero status.
Allegra comes across as a sweet woman who has suffered her share of grief. Abandoned by her father for reasons unknown, and with a sometimes fractious relationship with her mother, bitter over that abandonment, she's had to do many things on her own. She's quite prepared to have the baby on her own too, until the medical concerns drive her to contact Rafael. Even when she acquiesces to his demands, she does so with spirit and determination to be the best mother she can be. The attraction between her and Rafael flares again when she's with him in Italy and they share some sensual love scenes. There are some twists and turns to the plot, as more of Rafael and Allegra's pasts come to light. In the end, this couple brought together by chance gets their happy ending, complete with a sweet epilogue. Passionate, dramatic and intense, this is a very enjoyable read.

Book Info:

Publication: Aug 22, 2017 | Harlequin Presents | One Night with Consequences
Surrendering to the Italian billionaire When ruthless Rafael Vitali learns the woman in his bed is the daughter of his sworn enemy, he can't get her out of his penthouse quick enough. But when Allegra reveals she's pregnant, Rafael seizes the opportunity to assert his control. He insists Allegra move to Sicily…as his wife! Allegra's night of abandon with Rafael shattered the life she once knew. His claim over her body, and their unborn child, is undeniable, but giving him a claim over her fragile heart is beyond foolish–yet the temptation he poses is wildly, wickedly irresistible…