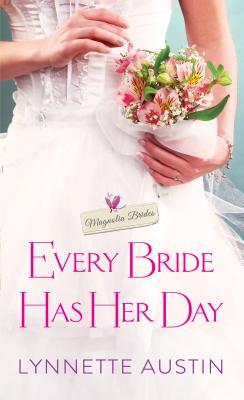 Every Bride Has Her Day (Magnolia Brides #2) by Lynnette Austin: This is the second book in the Magnolia Brides series, and it can be read as a stand alone. It is not dependent on the first book to understand the characters. This book really touched me. I have to say that the ending was so wonderful it made me cry, and that it a testament to power of finding your one true love. This is the story of Cricket and Sam.
Cricket O'Malley has come home to Georgia to live her dream. She has always wanted to own her own flower shop and now she gets her wish. The Enchanted Florist is a dream come true for Cricket, and getting to work for Magnolia Brides and help make others dreams come true is a bonus. What she did not count on was her surly neighbor with his tempting body and secrets that he is not willing to share.
Sam DeLuca is only back in Georgia to recover after a undercover case that almost killed him. Needing to get away and get his head back on straight, he has returned to the one place that he loved as a child. The house that was left to him by his aunt. Determined to fix up the falling down home and sell it is Sams direct plans. He is not one to stay in one place long. But his feet don't feel so itchy when Cricket is around.
As Cricket and Sam work side by side on the old house and on her flower shop, the sparks start to fly. With the help of a homeless dog, who will howl up a blue streak until they give in and kiss, these two might have found more than they bargained for. Can the man that never thought he would commit and the woman that wants her forever find some kind of middle ground, or are they destine to lose it all.
I loved the connection between Cricket and Sam. Cricket is the kind of neighbor that puts everyone before herself. She is the kind of person who will reach out and help anyone in need. Sam is weary at first, and his concern for Cricket, or Bug as he likes to call her is heartwarming. Hobo the dog adds humor and fun to the story and in the end can be credited with helping these two find a HEA.
This is an amazing story and just the thing to kick off your summer reading list.

Book Info:

 Expected publication: May 3rd 2016 | Sourcebooks Casablanca | Magnolia Brides #2
Can love revive a wilting heart?
Cricket O'Malley can't wait to plant roots back home in Georgia, where she's returned to restore an abandoned flower shop to its former glory. The only blemish? Her neighbor's house is even more neglected than her old flower shop, and its occupant seems as surly as he is darkly handsome.
Devastated body and soul after a tough case went south, New York City detective Sam DeLuca thought he'd have no trouble finding solitude in the quiet Georgia town of Misty Bottoms, but his bubbly neighbor seems determined to shine happiness into Sam's life. Sam is equally determined to close himself off, but his heart says otherwise…