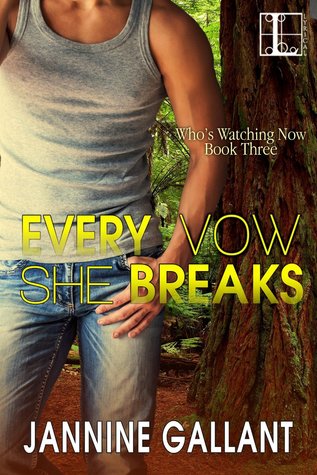 In Every Vow She Breaks (Who's Watching Now #3) by Jannine Gallant, Claire Templeton knows it'll be a long shot to get the photos she needs for her article. Luckily, she has a back-up plan to ensure she has something to remember the unique adventure she's on by. As a nature photographer, she's determined to capture the regal beauty of some California Redwoods on film as well, if she's unable to obtain the story she's there for. However, it seems trouble has followed her when someone begins leaving her presents in the hopes she'll remember a promise she made years ago. Can she discover the source before it's too late?
She dug her wallet out of her purse then glanced over to smile before dropping a few singles on the table. "I can't believe we met again, here of all places, after all these years."
"Must be fate or destiny or whatever."
The little girl that used to follow him around years ago has grown into a beautiful woman, and Jed Lafferty is ecstatic to have run into her again after all these years. He's determined to get to know her better, yet when someone begins leaving her strange presents with messages attached, his priorities change. Instead, he's determined to protect Claire while helping her figure out the identity of the person stalking her.
Having read a few of this author's books, which include the first two stories in this series, I couldn't wait to read this third novel in Ms. Gallant's Who's Watching Now series. The way it started with Jed and Claire meeting again after so many years set the fast pace of the story for me, as I wanted to learn what happened for them to lose contact of each other when they seemed so close. Yet, this story really gripped my attention once Claire received her first gift. Who is stalking her? Is it one of the men she dated, or is it someone else?
As for the dialogue, the playful banter between the main characters definitely gives credence to the saying opposites attract. Jed is all about having fun and making his own luck while Claire is ready to settle down and believes in fate. But no matter how different they are, it doesn't stop either of them from wanting to get to know the other. However, this story also gets very intense due to both characters back stories and Claire's stalker. The gifts and cards become more frightening each time she receives one. It was understandable why she would suspect the three men that she did.
I really liked both characters. Jed likes a challenge, and that's what Claire is to him. He's determined to prove that he can be the sort of man she needs, and if helping her figure out who is stalking her while keeping her safe is what it takes, he'll do it. Besides, he needs all the help he can get when it comes to their game of seeing if Jed's good qualities outweigh his bad. While Claire, she's hard-working, resilient and brave. It's hard for her not to become more and more worried about the presents she's receiving, especially when she's too trusting of the people that would be the most likely suspects in her eyes.
"Wow. You should come with a warning label tattooed on your forehead – Love 'em and Leave 'em Lafferty."
"I'm not that bad. I only go for the women who know the drill. I don't prey on naïve innocents."
"I guess that's a point in your favor…an extremely small point."
He grinned. "I can be rehabilitated. Give it your best shot."
"Sounds like a daunting task."
The chemistry was intense between this couple from the moment they meet again after so many years, and keeps getting stronger the more I read. Eventually, their strong chemistry spilled over onto the pages through hot sex scenes. Their banter and their growing relationship makes it seem – almost – as if they've never been apart, yet Claire knows that giving Jed a chance could be dangerous. Too easily he could break her heart, if he treated her the same way he has the many women before her. However, I liked that he proves himself over and over again with everything he does for her including being there for her when she needed him most.
Overall, I really liked this book where the secondary characters certainly make this story interesting. The men Claire suspected as her stalker certainly wouldn't win any congeniality contests in my eyes. Well, except Dallas. He proves himself a good guy by helping Jed. The ending wrapped this story up nicely with Jed's brother, Kane, dropping everything to help him find Claire and then the hero finally getting to express his feelings for the heroine. Claire needed to know how he felt, and hear that they had a future together, despite him proving that he will always be there for her. I would recommend Every Vow She Breaks by Jannine Gallant, if you enjoy romantic suspense; the opposites attract trope or are fans of Karen Rose, Pamela Clare, Cynthia Eden or Kaylea Cross.
Book Info:

 March 1st, 2016 | Lyrical Press | Who's Watching Now #3
Fans of K aren Rose, Cynthia Eden, Kaylea Cross and Pamela Clare will love Jannine Gallant's brilliant blend of exciting suspense and emotional romance, with real characters caught in extraordinary circumstances.
A promise can follow you to the grave… Claire Templeton is drawn to the majestic beauty of the California Redwoods in the hopes of capturing an unexplained phenomenon on camera. What she doesn't expect is to run into her first love, Jed Lafferty, the boy she worshipped as a child, the man she's never been able to forget.
Carefree, fun-loving Jed doesn't believe in fate, preferring to make his own luck. But when he runs into the little girl who used to follow him like a shadow, now an irresistible woman, he can't help feeling the odds are turning in his favor. Letting Claire walk out of his life the first time might be his single biggest regret. But when strange gifts and cards left for Claire turn sinister, it's clear someone else from her past isn't ready to let go…
Looking for more danger and drama? Don't miss the other Who's Watching Now titles, Every Move She Makes and Every Step She Takes.