Expecting the Billionaire's Baby by Andrea Laurence: When your parents have taught you to live your life one way since you were a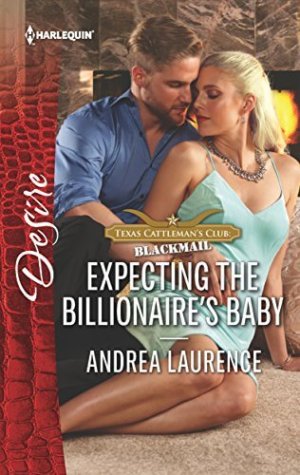 baby, what else can you do? So what if your heart breaks at 17? But then, so many years down the road do you allow it to be broken yet again?
Cecelia Morgan was tired of doing things the way her parents wanted them. She was old enough that it shouldn't be about them any more, right? Shouldn't she be able to make the call? Yet it's still their reputation and their careers, never their hearts though. So when faced with a huge dilemma what is a girl to do?
Deacon Chase wasn't sure why he was back in Royal. He wasn't sure why he wanted to see the girl who broke his heart. He wasn't sure of anything other than he needed to be here, he needed the closure. At least he did until he got the opening again and it wasn't about closure any more, it was about the future.
When there is hope there is a smile and a promise. Lies and fears can break that hope, but sometimes those can be overcome, if someone just loves enough.
Back to Royal and the Maverick blackmailer. LOVE IT! Yes this is part of a series but can be read as a stand alone as well. Everything about this is on point, from the characters to the scenery to how it falls in with the series. There isn't anything graphic, but there are leading points. This is another wonderful work by Ms. Laurence and a true joy to read.
Book Info:

Publication: Published April 4th 2017 | Harlequin Desire | Texas Cattleman's Club: Blackmail #4
A Texas-size pregnancy surprise!
Cecelia Morgan needs to take her business to the next level, and decorating the new luxury resort in Royal, Texas, is just the ticket. But at the meeting to pitch her designs, she comes face-to-face with Deacon Chase, her former flame from the wrong side of the tracks who grew up to be a billionaire hotelier. Turns out he's the silent partner in this project. Their chemistry is off the charts. Too bad she's spoken for.
But when the blackmailer terrorizing the Texas Cattleman's Club targets Cecelia, revealing a past secret that ruins her present engagement, she turns to Deacon for comfort…only to soon be expecting!