Exposed by Jasinda Wilder: Madame X had just been existing and going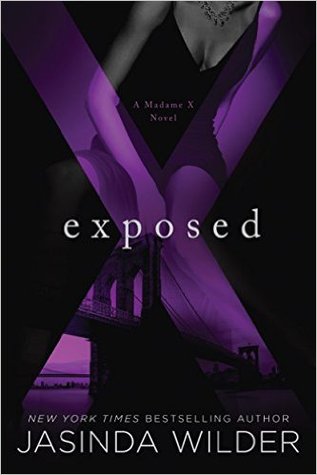 through the motions of life. X is in a unique situation and she's beginning to question who she is and what she knows about her own life. Her world has expanded in different ways since meeting Logan. They share an intense chemistry that X can't entirely ignore.
"Kitten's got teeth," Logan murmurs.
"I'm a lioness, Logan, isn't that what you told me?"
He rumbles a laugh. "I did say that once, didn't I?"
As much as X is drawn to Logan, she's connected to Caleb. Caleb and Logan are very different men with a complicated relationship. Both men want X and are unwilling to share. X has largely only seen one side to Caleb, but she's beginning to get a better understanding of the man who has been her entire world for years. She is challenging Caleb in new ways.
"You know me better than that, obviously."
"No one knows you, Caleb."
You finish your water and crumple the bottle into a ball, twisting on the cap. "Not true. You know me. Better than anyone, I think."
Exposed is a spellbinding journey of discovery. Jasinda Wilder continues to tantalize and weave her web as X begins to reemerge. Ms. Wilder provides compelling characters in a story that makes you wonder how it all will end. Exposed should be read after Madame X, since the story picks up from there. Exposed will answer some of your questions, but will leave you with many more. Fans of Beth Kery and Lisa Renee Jones will enjoy Exposed.
Book Info:

Publication: March 1st 2016 | Berkley | Madame X #2
New York Times bestselling author Jasinda Wilder presents the second darkly seductive novel starring the mysterious Madame X.
Everything Madame X has ever known is contained within the four walls of the penthouse owned by her lover, her keeper, the man who controls her every move and dominates her desires. While Caleb owns her body, someone else has touched her soul. X's awakening at the hands of Logan's raw, honest masculinity has led her down a new path, one that is as exciting as it is terrifying.
But Caleb's need to own her completely knows no bounds, and he isn't about to let her go. Not without a fight that could destroy them all…